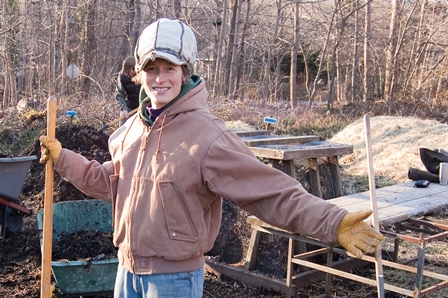 The Biodynamic Association's beginning farmer training program, the North American Biodynamic Apprenticeship Program (NABDAP), began with a handful of apprentices and mentor farms in 2009. Since then the program has blossomed and grown, with mentor farms across the United States and Canada and nearly 40 apprentices currently enrolled. People often inquire as to what graduates of NABDAP go on to do, so Director of Programs Thea Maria Carlson recently asked one the program's first graduates, Megan Durney, to share her experience.
Thea: What inspired you to pursue biodynamic agriculture and participate in NABDAP?
Megan: I entered into biodynamics because I wanted to participate in an agricultural activity that was conscious, where farmers are awake to the true impact they have on the land and the earth as a whole. Coming to the Pfeiffer Center, a biodynamic training center in New York, was the first step I took on this journey seven years ago. An established training in biodynamics is very important to develop, and I joined NABDAP to support and participate in this effort. Many young people entering into biodynamic farming presently do not have an agricultural schooling but have heard a call to bring a healing impulse to farming. In order to honor this call and the future, biodynamic practitioners need to provide a conscious training program in the art of biodynamics, A focused program is especially valuable for those who have a limited amount of time to participate in a training, and my hope is that NABDAP will continue to evolve to meet the needs of incoming farmers so that they may meet the needs of the future of agriculture.
Read the full profile, originally published in the Fall 2013 issue of Biodynamics.