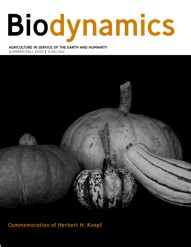 This edition of Biodynamics finds us commemorating the life and work of Herbert H. Koepf, a pivotal figure in the world of biodynamic agriculture both here and abroad. As the pieces by Manfred Klett and Beth Wieting demonstrate, Dr. Koepf greatly influenced the development of biodynamic agriculture, as well as the work of many individuals, over a period of decades. Beth Wieting's commemorative article also includes excerpts from Dr. Koepf's personal recollections, written in 1993 and published here for the first time. We include as well several pieces by Dr. Koepf published in Biodynamics decades ago. For those meeting him for the first time, these pieces should introduce the careful thoughtfulness of the man, as well as highlight the prescience and continued importance of his work. And for those well familiar with Dr. Koepf's writings and teachings, these pieces will hopefully provide a reminder, a further motivation to choose, as he so succinctly stated, "to exercise the responsibility that is required to preserve and to increase [the earth's] productivity."
Selected articles are available for download. You will need Adobe Acrobat to read these articles. Download a copy of Acrobat for free.


FEATURES
Obituary, Manfred Klett
Remembrance of Herbert H. Koepf
Commemoration of Dr. Herbert H. Koepf, Beth Wieting
Personal recollections, interspersed with autobiographical notes from Dr. Koepf
What is Bio-Dynamic Agriculture?, Herbert H. Koepf
Concise and practical overview of biodynamic agriculture
Bio-Dynamic Farming and Gardening in Our Time: Agriculture as a Social Task III, Herbert H. Koepf
Rethinking the relationship to production and the social fabric
Towards a New Decade, Herbert H. Koepf
How biodynamic agriculture can relate to the biosphere, still pertinent in the new century
The Biodynamic Preparations, Beth Wieting
Transforming the world through the biodynamic preparations
NEWS AND HIGHLIGHTS
In the News
2007 Conference Highlights, Alan York
Keynote address contemplating the Anima Mundi and its significance for biodynamic agriculture
2007 Conference Highlights, Laura Liska
Creating healthy diversity on the farm and in the community
Regional Group Highlight: Biodynamic Association of Northern California
Organizing the national conference and furthering educational goals
DEPARTMENTS
Letter from the National Office, Charles Beedy
Letter from the Board, Jean-Paul Courtens
Seasonal Recipe, Anthony Lo Pinto
Showcasing the harvest with blue hubbard squash and Anjou pear soup
Seed Saving: Seeds as the Expression of the Farm Individuality, Don Tipping
Review, Rebecca Briggs
Books by Barbara Kingsolver and Michael Pollan
Events and Classifieds
* * * * * * * * * *
Words of wisdom from Dr. Herbert H. Koepf ("The Productivity of the Earth (Conclusion)," Biodynamics No. 87, Summer 1968):
Drawing closer to an understanding of living organisms will not only increase our body of knowledge, important though this may be. It will, rather, kindle in man an intensified interest in this kind of research. It will also awaken in him a deep feeling of the responsibility he should have towards the realms of nature which sustain his life. . . . Working the soil endows man with high ethical values. It brings meaning into his life. This does not mean that one blinds oneself to the economic necessities. These exist and they must not be disregarded. Bio-dynamic farmers all over the world have successfully demonstrated that responsibility towards the realms of nature can be made to agree with economic success. But they also appreciate the additional benefits which they can draw from this work. They are not satisfied with the shallow-minded, exclusive striving for more money. In addition to making a living, they want to have a true meaning in their daily work.
It is man's choice, either recklessly to utilize what this earth has to offer, or to exercise the responsibility that is required to preserve and to increase its productivity.