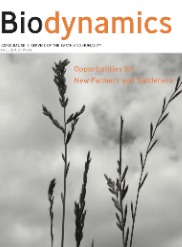 Now more than ever we need the influx of new energy and motivation, new excitement, new willingness to help heal the Earth. As society begins to recognize the intertwined natures of food production and human and ecological health, we realize that new biodynamic farmers and gardeners will be critical to the rejuvenation of our world and our selves. Supporting a new generation (whether young or old) requires a multi-pronged approach — one that looks, among other things, at training, access to land, and access to capital.
We have only begun to ponder how to support such growth. Please join our discussion.
To become a member, help support biodynamic agriculture, and receive this journal four times a year, please read more at on our membership page. You may start or renew your membership online, by calling (800) 516-7797, or by emailing info@biodynamics.com.
Gift memberships are also available. We greatly appreciate your membership support, which is especially important in these challenging times.
FEATURES
Announcing a North American Biodynamic Apprenticeship Program, Sherry Wildfeuer
In Defense of "Old Fashioned" Training: A Few Words of Wisdom for All Trainees, Apprentices and Master Growers Alike, Hartmut von Jeetze
Farming: Redefining My World, Jamie Haubner
A Window into Transparency: The Desire for Connection Through Finance, John Bloom
The Need for Multi-Stakeholder Ownership, Robert Karp
Resources for New Farmers and Gardeners
The Transformation of the Competitive Market and Capitalism: A Necessity of the Twenty-First Century, Gary Lamb
Community as a Basis for the Renewal of Landscape, Hartmut von Jeetze
Ehrenfried Pfeiffer, the Threefold Community, and the Birth of Biodynamics in America, Bill Day
Prepared Valerian: The Secret of Finished Compost, Joseph A. Stevens
On Stirring and Other Thoughts, Wali Via
NEWS AND HIGHLIGHTS
In the News
Biodynamic agriculture in the United States and around the world, and other related news
The Preparations, Karen Davis-Brown
Event Overview, Rebecca Briggs
Slow Food Nation 2008
Agriculture and Spirituality: This Year's Annual Biodynamic Conference as Seen Through the Eyes of a New Farmer, Jamie Haubner
DEPARTMENTS
Letter from the National Office, Charles Beedy
Letter from the President, Jean-Paul Courtens
Seasonal Recipe, Anthony Lo Pinto
Dark chocolate beet cake
Seed Saving, Don Tipping
Opportunities in biodynamic seed production
*********************************
Training in Biodynamic Farming and Gardening must go beyond learning an efficient technology. Its goals include a deeper understanding of the workings of living nature and human development. . . . [Experience, skills, and knowhow] are not just prerequisites for successful farming. They are necessary for the farmer who wants to mold his ideals and the physical necessities of farming into a unity. Farming's unique quality is to offer individuals a way to unite ideals and practice. . . .
During his lectures on agriculture Rudolf Steiner found the time early in the morning to address a group of younger men and women. Some of them were future farmers. He spoke about the search of the younger generation, their wanting to reach beyond the sterile materialistic world of modern times. "You are seeking the spirit in nature," he said. This search is central to what biodynamic farmers and gardeners strive to accomplish. Its general application creates a form of agriculture that truly serves the earth and humanity.
Herbert H. Koepf, The Biodynamic Farm, Anthroposophic Press, 1989