Associative Economics and Community Supported Agriculture
In the Summer 1987 issue of Biodynamics, Jan VanderTuin introduced North American farmers and consumers to the concept of community supported agriculture (CSA) - a concept which, over the next two decades, flourished and entered into the mainstream consciousness. The Spring 2008 issue of Biodynamics not only celebrates the success of the CSA concept, but also considers its implementation and asks how we may develop a truly integrated associative economy.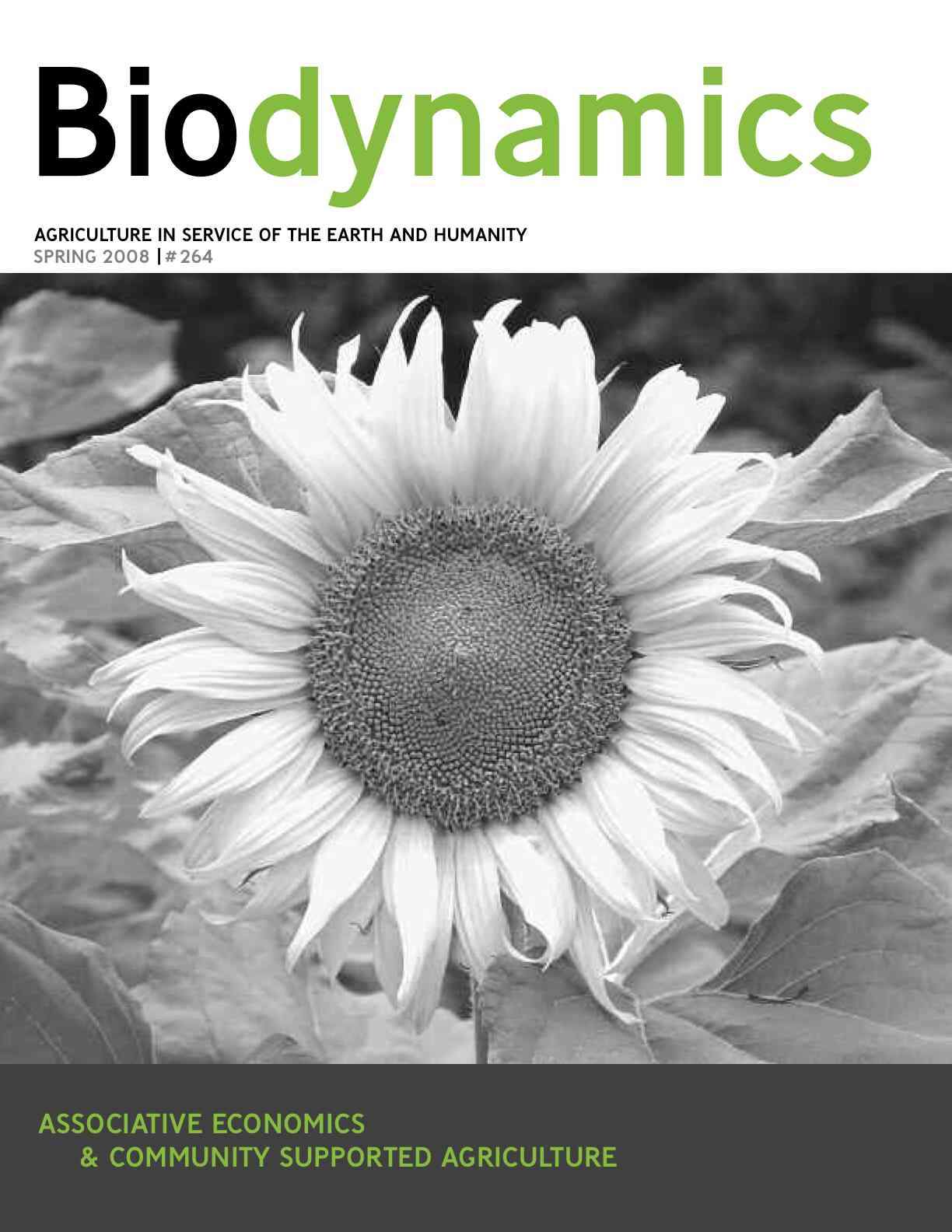 Recent news on CSAs and related issues can be viewed in the news archives. See our Introduction to CSAs page for more information about CSAs, how they work, and further resources.
By becoming a member in the Association, you will receive four issues of Biodynamics each year, as well as discounts on literature and other benefits. Upcoming issues of Biodynamics will feature more on associative economics by Gary Lamb, Robert Karp, and Hartmut von Jeetze, as well as information on biodynamic agriculture research (Summer 2008) and opportunities for new farmers (Fall 2008). Member donations help the Association pursue communications and education, regional outreach, resource development, and training initiatives. We're planning many projects in celebration of our 70th year. Your contribution will make a difference!
---
Selected articles are available for download in PDF format. Click on highlighted articles to download.
You will need Adobe Acrobat to read these articles. You can download a copy of Acrobat for free.
FEATURES
Community Supported Agriculture and Associative Economics, Jeff Poppen
Rekindling ancient insights
[To read more by Jeff Poppen, visit the Barefoot Farmer website at www.barefootfarmer.com]
Why Am I Crying Over a Biodynamic Onion?, John Bloom
The importance of passionate, principled work and community wisdom
Toward an Associative Economy in the Sustainable Food and Farming Movement, Robert Karp
Envisioning the creation of a new economy
The Fundamental Social Law, Gary Lamb
Rudolf Steiner's Fundamental Social Law as a foundation for a new economy based on associative cooperation
Parallels in the Dynamics of Plant Growth and the Laws of Social Growth, Hartmut von Jeetze
Understanding of social growth and community dynamics as demonstrated in plant life cycles
Three CSAs, Three Economies, Woody Wodraska
Personal, practical comparison of three models of community supported agriculture
Associative Contracts at JPI, Rebecca Briggs
Applying associative principles to the prep-making work at JPI
The Folk Tale of the Little Spanish Cobbler, Alan Lindgren
[Copyright 2008 by Alan Lindgren]
NEWS AND HIGHLIGHTS
In the News
Biodynamic agriculture in the United States and around the world, and other related news
Regional Highlight: Welcome to Biodynamic Heaven, Jim Jensen
The glories of, and need for, biodynamic farming in Georgia
JPI Update, Christy Korrow
Meeting Overviews
Future of the Preps meeting in Viroqua, Wisconsin, and Biodynamic Training Initiative Meeting in Hawthorne Valley, New York
Program Profile: Biodynamic Intensive Course at Rudolf Steiner College, Jamie Haubner
DEPARTMENTS
Letter from the National Office, Charles Beedy
Seed Saving, Organic Seed Alliance
Fighting genetically engineered, Roundup Ready sugar beets
Seasonal Recipes, Anthony Lo Pinto
Diver sea scallops with asparagus, mint, and lemon broth; chocolate pots du creme; and companion planting hints
Book Review, Shannon Tyman
Review of The Revolution Will Not Be Microwaved, by Sandor Ellix Katz
*********************************
[I]magine, not the dismal images of agriculture that are hard to relate to, but an agriculture that is integrated. (One of the hardest things for people ... to realize is that this is their land, their food production and that they can participate in it to whatever extent they would like.) Imagine a place where one can plant a 'tree' to benefit many, a park in the best sense of the word. Imagine a place where one can become an experienced gardener, if one desires. Imagine an agricultural experience that can inspire young people to pursue an agricultural path, both because of the private rewards and because of the social and economic respect. Imagine providing for those with less in the community by allocating shares for that purpose. Imagine a place for the handicapped to be appreciated and integrated within the broader community. All of these imaginings and more exist now in various locales around the world and they lead to one primary point. Quality food. For there is more to food than its purity, taste and beauty. If you can imagine, then you can act. The examples are there.
Jan VanderTuin, "Community Supported Agriculture" (Biodynamics, Summer 1987)