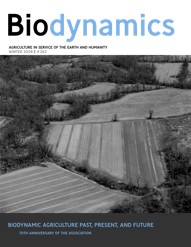 As the Association enters its 70th year, we are taking time to consider the development of biodynamic agriculture in the United States and globally. Where have we come from, where are we now, and where are we going?
This issue is a celebration of what has been accomplished, as well as what may lie ahead for biodynamic farmers and gardeners. We will continue this theme throughout 2008, focusing on issues of historical significance as well as on the trends and important issues of the present and future.
It's an exciting time. Much can happen. Please join us.
(And look forward to Spring 2008, when we focus on associative economics!)



Selected articles are available for download. Click on highlighted articles. You will need Adobe Acrobat to read these articles. Download a copy of Acrobat for free.
FEATURES
The Biodynamic Association Turns 70!, Heinz Grotzke
Personal recollections of half a century of involvement with the Biodynamic Association of the United States
BD Ditty, Jeff Poppen
* * * * To peruse further writings by Jeff Poppen and a revised BD Ditty (coming soon), visit www.barefootfarmer.com * * * *
The Working of the Four Ethers and the Preparations in Biodynamic Agriculture, Hartmut von Jeetze
The first of four lectures on working with the biodynamic preparations and participating in dynamic, responsible farming and gardening
Raising Calves the Old, Modern Way, Steffen Schneider
Finding the "new in a return to the "old"
Biodynamics, Winemaking for the Future, Nicolas Joly
Biodynamic viticulture and the individuality of the vineyard
Biodynamic Agriculture in India: Peter Proctor, Beth Wieting
An interview with India's biodynamic agriculture guru
Carbon - The Great Plastician, Bernard Jarman
Assessing carbon balance on the farm
Bio-Dynamic Agriculture - A Powerful Renewal of Nature, John Bradshaw
Rehabilitation of degraded lands and resources through biodynamic methods
A Lawn Culture, Valerie Brown
Moving from lawns to a new use of land
NEWS AND HIGHLIGHTS
In the News
Business Profile: California Flowform Artisans, Patrick Garretson
New flowform artistry in the United States
Winery Profile: Benziger Family Winery
A model of biodynamic viticulture in Sonoma County
2007 Conference Highlights, Beth Wieting
Keynote address on the question of what makes biodynamic farming and gardening healing
DEPARTMENTS
Letter from the National Office, Charles Beedy
Letter from the Board, Jean-Paul Courtens
Seed Saving: Making History in a Seedy Way, Don Tipping
Creating history through seed production
Seasonal Recipes, Anthony Lo Pinto
Oven-roasted beets, pear, and goat cheese and chocolate-glazed beef short ribs
Events and Classifieds
* * * * * * * * *
In the very first issue of the journal ("Prosperity - Security - The Future," Biodynamics No. 1/2, Summer 1941), Dr. Ehrenfried Pfeiffer gave us some words of wisdom that ring as true today as they did 67 years ago:
[A]s long as the highest spiritual treasures of mankind are split up into creeds and as long as disharmony reigns between faith and science, we must move between extremes and be subject to uncertainties. It is the task of the farmer and those interested in farming to develop adequate measures to enable mankind to build up the outer surroundings necessary for a new kind of community. Only a community based on free expressions of thought from all those responsible for and connected with cultural progress will be capable of fostering a free spiritual life, which can become the sources of ideas and impulses beneficent to the organization of the State and to the economical life and able to cope with the rapidly changing conditions that will reign during the next 20 years, at least. A science of the spirit may offer satisfaction to the longings of humanity. When such a science will have become common property, ethical forces bringing life, progress and peace will not only be awakened, but trained and matured. Would this not be a possible basis on which the nations could unite, turning away from wars and building up a new culture, jointly and peacefully? It depends on the will power and the insight of each one of us. For the thoughts of today are mighty powers and tomorrow they have become deeds.