"I want to tell you that the conference was life-changing for me. It was the first I had ever attended. My prior knowledge of biodynamics was largely through using the Stella Natura calendar and reading the essays included there. The breadth and depth of the content was so stimulating to a newcomer like me."
"It was a profound experience for me. I learned that a tribe exists which combines my love for cultivating plants & caretaking animals with my love for esoteric spiritual mysteries...literally, heaven and earth converged around me! THANK YOU!!!!"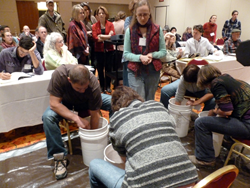 "This year's BD conference was one of the most beautifully and well-run conferences I have ever seen! It was flawless, gentle yet strong wise and human. It was remarkable."