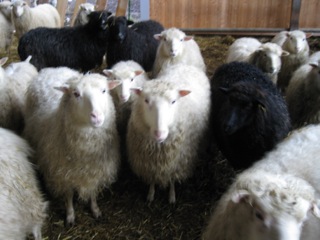 We are an organic dairy farm in northern Sweden with a breed of cow called "Fjällkor" which means "mountain cows" in Swedish.  This is an ancient breed that was once the most common in Sweden but in later years was in danger of extinction.  The Swedish government took steps to try and save this breed which gives a very high percentage of cream, similar to a Jersey or Guernsey cow, and is known for their intelligence and gentle natures.  We are one of only five farms in this vast area of Norrland that is raising Fjällkor.  We have 16 that are milking, 11 heifers in the field with the young bull, and 11 more heifers that were born this Spring.  Our bull calves graze in the fields here  until the slaughter in November when they are butchered and sold locally.  There is a great demand since they are completely free of any chemicals or artificial feedstuff.
My husband is Swedish and I am an American.  We try to do everything in the most natural way on our farm for both people and animals.  We do not use artificial insemination so we keep three bulls.  We feed our animals only fresh hay from our own fields, and crushed natural barley that grows in this area, no concentrates of any kind.  We also have sheep and pigs, the latter of which are fed on the residual whey from our cheese making facility here on the farm. We do not use preservatives in our cooking and make the majority of our daily menu dishes from scratch. We have a full size carpentry and machine shop as well as the dairy and a stone oven bakery. There is also beautiful fishing in the lakes and rivers here.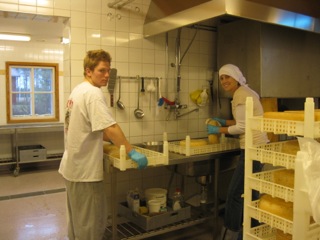 Each year we have interns and volunteers come to our farm from all over the world. Some are WWOOFERS, others from contacts made through friends or relatives. We usually have a young man and a young woman during the quieter winter months and two of each or more during the busier Spring, Summer and Fall periods. They work with us and learn animal husbandry, planting and maintaining the fields and our large vegetable garden, gathering the wild berries that grow in the forests surrounding our farm, etc. We offer apprenticeships to young people who have a sincere desire to farm with natural and earth-friendly methods.
For more information, please contact:
Hans and Lorayne Karlsson

Edhegård Farm

Eden 121

88037 Junsele

SWEDEN

lorayne@edhegard.se

+46-621-21032