Biodynamics, Summer 2009
Demeter USA is one of the key national biodynamic organization with whom we work closely to serve the biodynamic movement. To find out more about Biodynamic® certification, visit their website at www.demeter-usa.org.
---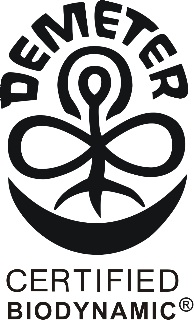 A healthy social life is found only, when in the mirror of each soul the whole community finds its reflection, and when in the whole community the virtue of each one is living.
— Rudolf Steiner
In 1928, a short four years after Rudolf Steiner delivered his Agricultural Course, Demeter was formed in Europe to ensure that Biodynamic agriculture was codified through a farming standard, uniformly applied through a strict certification process, and its products promoted in the marketplace. Since that time the growth of Demeter has been intrinsically tied with the growth of the Biodynamic movement around the world. Today, Demeter International is the only ecological association that is comprised of a network of certification organizations worldwide and boasts approximately 4,200 producers in forty-five countries.
In the United States, Demeter was founded in 1985 as a non-profit to promote Biodynamic agriculture in the commercial sphere. Our mission is to enable people to farm successfully, in accordance with Biodynamic ® practices and principles. Up until five years ago, Demeter's membership was primarily composed of small and medium-sized family farms that sold local and regional products. But then wineries started to take an interest, pursuing certification and also promoting Biodynamic agriculture amongst their customers and trade groups.
Largely because of that growth, germinal interest in Biodynamic is evident in the media, retail, and restaurants, and amongst consumers. Over the past year, articles positively discussing Biodynamic agriculture, products, and Demeter certification have appeared in regional newspapers and national media around the country — including The New York Times, Wall Street Journal, Mother Jones, The Today Show, Women's Wear Daily, Organic Wine Journal, Eating Well, Real Simple, Ode Magazine, Wine & Spirits, and Sierra. Retailers and restaurants are taking note, seeking out Biodynamic products and highlighting them on their store shelves, menus, and wine lists. The Demeter office receives weekly inquiries from consumers interested in learning where they can purchase Biodynamic products. And what has been especially touching is the correspondences we are receiving from students all over the country seeking more information in pursuit of their undergraduate and graduate studies in all aspects of Biodynamic farming.
Perhaps even more compelling than Biodynamic's contribution to agriculture and product quality is its potential impact, when practiced on a large scale, on the environment. With so much world attention on global warming and agriculture's contribution to it, we feel an added responsibility to promote this farming methodology, one of the highest forms of sustainable agriculture, as a potential remedy to climate change. Because the Demeter farm standard requires that the farm be treated as a self-contained, self-sustaining ecosystem, and that at least ten percent of its acreage be set aside as a bio-diversity preserve, Biodynamic farms can be not only carbon-neutral, but potentially carbon sequesterers. Demeter's vision is to heal the planet through agriculture, so ultimately we view Demeter's role as transcending the commercial realm in its promotion of Biodynamic agriculture as an environmental strategy for climate change.
These are exciting times, and Demeter is prepared to meet the opportunities and challenges in the marketplace today. Our organization is keenly focused on five areas.
Teach: help our members embrace, implement, and capitalize on Biodynamic practices and principles.

Grow: increase the supply of Biodynamic product.

Market: enhance member profitability by driving demand for Biodynamic products.

Protect: strengthen and enforce the certification mark "Biodynamic."

Manage: ensure that Demeter has the resources to achieve its mission.
This clarity of vision allows us to make great progress with limited resources; enables us to transparently communicate our intentions to our members, brethren Biodynamic organizations, and the marketplace; and provides a foundation from which the entire movement can benefit.
An integral part of this foundation is the certification marks themselves. In the United States, both DEMETER ® and BIODYNAMIC ® are registered certification marks, a type of trademark granted by the U.S. Patent and Trademark Office and held by Demeter. The goal of holding these certification marks is to protect the integrity of Biodynamic agriculture in the commercial marketplace. In order to legally use them in reference to a product or farm, the product has to meet the Demeter processing standard, and the farm has to meet the Demeter farm standard. This ensures that the definition of Biodynamic is not usurped for purely marketing reasons or diluted through individual interpretation, but instead is inseparably tied to the farming standard itself as defined by Rudolf Steiner eighty-five years ago.
We look forward to working with the Association (BDA) and other Biodynamic groups to take advantage of the groundswell of interest in the marketplace by advocating Biodynamic farming, fostering the development of Biodynamic products, and educating the marketplace. In future columns, we will share some of the projects on which we are focused. In the meantime, we'd like to take a moment to thank Chuck Beedy for all of his dedication and hard work and wish him well in his retirement; welcome Robert Karp in his new role; and thank the BDA Board of Directors and Biodynamics editor Rebecca Briggs for this opportunity to share with the BDA community.
Demeter Office: (541) 929-4387 ◊ www.demeter-usa.org