Bello Uccello Honeybee Sanctuary Workshop in Digby County, NS
Bello Uccello Honeybee Sanctuary will hold its seventh Beginners Beekeeping Workshop based on Biodynamic Principles on Saturday May 3lst-Sunday, June First, and June 14th- 15th 2014.
Klaus Langpohl, an experienced biodynamic beekeeper, will be your teacher and guide as he shares with you, one-on-one,  the  Amazing Life of the Honey Bee, inside and outside of the Hive .  The workshop is designed to prepare you for your journey to become a Natural Beekeeper based on biodynamic principles.  This is an intensive l5 hours of classroom and outdoor, hands-on experiences.  In a small class setting you will learn about the world of the Queen of the Sun and you will: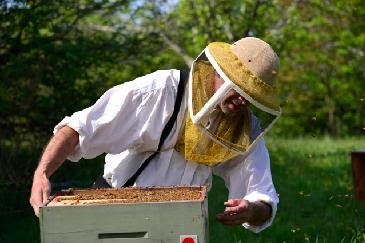 learn about the science of the bee and the hive and the life cycle of the bee
discover how to take care of the bees without chemicals,
gain hands on experiences with the hives and confidence in approaching,   observing and working with the hive throughout the season
learn about the equipment and assembly of  a hive, and make your own wooden frames for the hive
practice the art of inspecting the hive and Seeing what to look for  as a natural beekeeper
learn about the pests and diseases which threaten the bees and natural solutions to these challenges
discover the calendar of beekeeping as a biodynamic beekeeper and view the natural world relationships which influence the honey bee
meet others in a small class setting who are also environmentally conscious and place a high value on organic/biodynamic food quality
learn how to regress the size of the honey cell back to its original mite resistant size
discover how to locate a hive on your property
REGISTRATION DETAILS:
Date:         Saturday and Sunday, May 31st and June 1st
Time:         9am to 4:30 pm  each day
Place:         Plympton, Hwy 101, Digby County, Nova Scotia
Registration:    Please register by email (bello.bees@gmail.com) or phone 902 837-1030902 837-1030 (Placement is secured upon receipt of your cheque or money order payable to Klaus Langpohl, 6849 Gilberts Cove, Digby Co.,NS B0W 2R0. Please note that the class has 12 places available, and will fill up quickly. You will receive acknowledgment of receipt upon your check's arrival. )
Fee:     $235.00 for two full days of classroom  and outside learning experiences. Homemade organic/local lunches and coffee breaks are  included in the price
Book:    Biodynamic Gardening for Biodynamic Beekeepers in North America by Maria Thun (price 13.00)
Equipment:     You will need a veiled helmet, tight-fitting rubber washing up gloves, light coloured clothing which covers you from head to toe, full footwear, socks which can be pulled over your pant leg bottoms.
If you are allergic to bee stings this is not the course for you. Signed liability waiver is required.