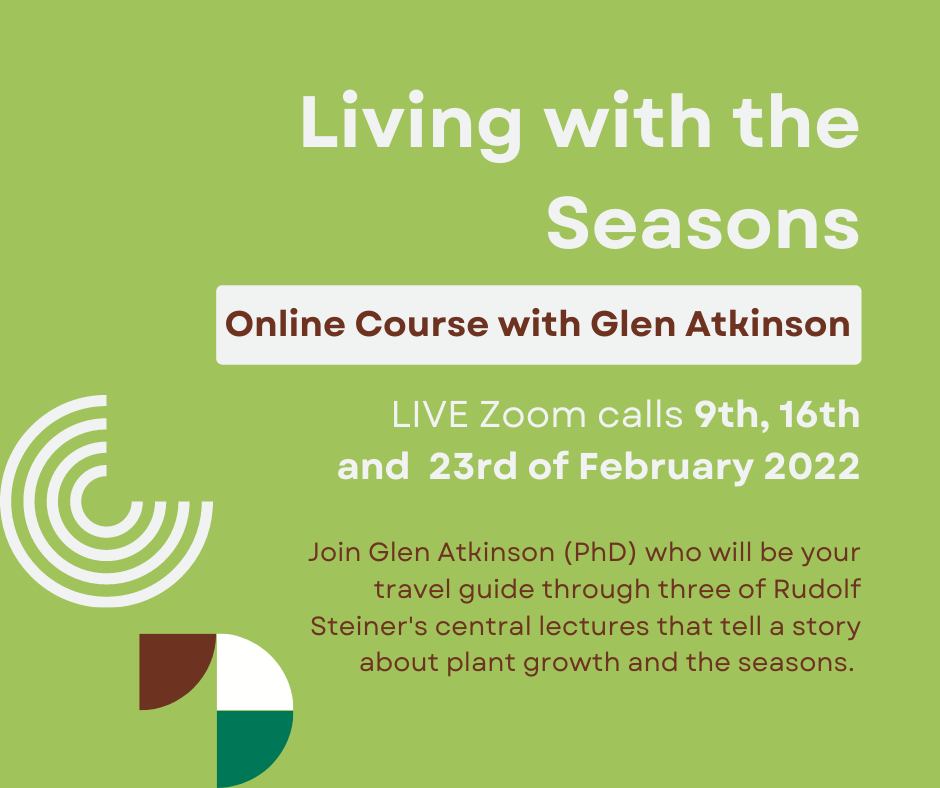 Living with the Seasons - Biodynamic Higher Education with Glen Atkinson
We're very excited to introduce Glen Atkinson's (PhD) latest offering shedding light on plant growth and the seasons through Rudolf Steiner's lens.
A central feature of Dr Steiner's teaching method is to appreciate that he can only tell us a very small part of a very large picture at any one time. It is our task to place all the pieces of these stories together, to reveal his view of the dynamic we see as Life.
Rudolf Steiner has given us a unique series of stories, outlining the unseen energies active in Nature, throughout the seasons of the year. These stories provide a framework of images through which we can deepen our appreciation of Nature, while finding a pathway to interact consciously with the positive and negative manifestations of these natural laws. These energy flows are occurring whether we can see them or not. Our challenge is to just see what is there, and find ways to utilise these free activities for the benefit of our land, plants and animals.
There are 3 central lectures that tell the same story, however each uses a different language of images as is Rudolf Steiner's way. Our task is to overlay these stories on top of each other. This helps to clarify the overall story, while deepening each individual lecture. 
The Three Central Lectures are;
Cosmic Workings in Earth and Man Lecture 5 31 October 1923

Man as Symphony of the Creative Word - Lecture 7, 2nd November, 1923

Agriculture Course Lecture 2 10 June 1924
Glen will be your travel guide through these three central lectures and overlay them into one cohesive story. We invite you to join Glen live for this online course over three 90 minute lectures in February 2022. Joining the sessions live will give you the opportunity to ask Glen questions directly. By purchasing this online course, you will also get access to the recordings.