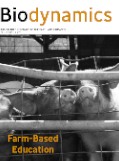 Growth on the Farm
Letter from the Editor
We hope you find as much inspiration in this issue's theme of farm-based education as we found in compiling it. Reading about the various ills of our time in the news — of disease and obesity and malnourishment, of the environmental degradation of conventional industrialized agriculture, of our collective disconnection from the natural world and our social and spiritual disfunction — one can grow disheartened. But through farm-based education we find some hope, not only that we can address our health and environmental woes, but also that we might further our own human development. More than a simple exhortation to respect nature, farm-based education at its best can help to develop the individual as a full human being, and also help to develop society as a whole. The BDA will continue to support these efforts, as we have done most recently with the retreat we co-sponsored in November for farm-based educators whose work is inspired by biodynamic agriculture, Waldorf education, or anthroposophy.
Jennifer Rosenstein brings to life how visiting and working on a farm (Hawthorne Valley, in particular) can provide children with much more than just academic knowledge; the experience actually engenders deeper, more meaningful changes within them. The following article by Matthew Davis explains the practical aspects of Hawthorne Valley's children's programs and how the "authentic" experience of spending time on a truly working, commercial farm, as opposed to the idealized farms of stories, is grounded in the "ecological and economic realities of the present day." We extend our tremendous gratitude to Matthew for his invaluable advice and contributions as we put this issue together.
Moving from children to young, and sometimes older, adults, we provide several perspectives on the apprenticeship learning experience on biodynamic farms: "Re-Imagining Possibilities on Spikenard Farm," by Peter Alexanian; "Seasonal Learning at Frog Belly Farm," by Maggie Mahle; and poetry inspired by Michael Geselbracht's apprenticeship experience on Alderlea Farm in British Columbia. Thanks to the number of fantastic responses, we will be offering additional apprenticeship perspectives in subsequent issues and online. Related to this topic, the recently formed North American Biodynamic Apprenticeship Program, which is co-sponsored by the BDA, provides an update on the winter intensive courses at Hawthorne Valley that will fulfill part of the Program's classroom requirement.
Finally, Jacqueline Freeman brings her first-hand knowledge as we look at the adult educational experience on the farm. On-farm classes are one avenue, as are "agritherapy" farm-stays. Jacqueline eloquently walks us through the agritherapy experience, which seems a fitting complement to more traditional on-farm education, as "[a] heartfelt connection to Nature brings us back into the primal co-creative partnership with the world around us and shows us how to contribute to our community."
As always, this issue also includes our regular features, news, and organizational updates. We are also very honored to present Malcolm Gardner's thoughtful study of the Fourth Lecture of Rudolf Steiner's Agriculture Course, as well as the fascinating results from sensitive crystallizations conducted by Philippe Coderey of Bonny Doon Vineyard.
Email journal@biodynamics.com or write to Rebecca Briggs, Editor, Biodynamic Farming and Gardening Association, 25844 Butler Road, OR 97448.
Biodynamics is our quarterly membership journal. Please consider becoming a member. We greatly appreciate and rely upon your support!
---
TABLE OF CONTENTS
FEATURES
Children on the Farm
Reflections on Farm Week: Our Connection to Hawthorne Valley Farm, Jennifer Rosenstein
Photography: Through a Student's Eyes, Raven Pedano
Integrating Children onto a Commercial Farm: The Visiting Students Program at Hawthorne Valley Farm, Matthew Davis
Apprenticeship Perspectives
Re-Imagining Possibilities on Spikenard Farm, Peter Alexanian
Seasonal Learning at Frog Belly Farm, Maggie Mahle
Poetry, Michael Geselbracht
Classes on Your Farm
Jacqueline Freeman
Agritherapy on the Farm
Jacqueline Freeman
Sensitive Crystallizations
Philippe Coderey
(Enlarged, color versions of the accompanying photos are available on our website)
The Agriculture Course
Open Secrets in the Composition of the Fourth Lecture, Malcolm Gardner
NEWS AND HIGHLIGHTS
In the News
Harvey Lisle Spiritual Scientist
Christy Korrow
The Demeter Biodynamic ® Farm Standard
Biodynamic Farmer Field Days
Biodynamic Farming Featured in Ingredients
Josephine Porter Institute Update
Harmonizing Polarities in the Biodynamic Movement
Continuation of an Email Interview with Robert Karp, Rebecca Briggs
Retreat for Farm-Based Educators
The Farm-Based Education Association
Apprenticeship Update
Winter Intensives at Hawthorne Valley Farm
DEPARTMENTS
The Biodynamic Preparations
"And, If You Can Still Bring Yourself To Do One More Thing....": The Juice of the Valerian Flowers As a Biodynamic Preparation, Karen Davis-Brown
Voices from the Farm
Letter from a Farmer: Food, Inc., Jody Bolluyt
Seasonal Recipe
Anthony Lo Pinto
The Last Word
What Broccoli Leaves to Be Desired, John Bloom