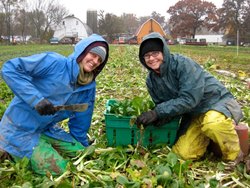 Angelic Organics has been a CSA farm since 1991 and now produces food for 1600 families. The head farmer has lived here for his whole life. There is a long history of an emphasis on art and creativity, and buildings have been adapted over the last 40 years to embrace and stimulate social life. Angelic Organics has a farm-based educational partner, The Angelic Organics Learning Center, located on the farm, which offers farmer training, workshops and other educational programs. 
The farm and Farmer John were filmed for 50 years, resulting in an award winning, feature length documentary The Real Dirt on Farmer John, seen by millions throughout the world. Farmer John has also published a cookbook, The Real Dirt on Vegetables, highlighting the forces in food as revealed through Rudolf Steiner's work, and offering a comprehensive picture of the farm's relationship to biodynamics. 
We make and prep about 500 tons of biodynamic compost a year, and make some of the preps on our farm. We are dedicated to applying Horn Manure and Barrel Compost annually, and Silica Spray at least twice per season. Our aim is to bring forth, more and more, the individuality of the farm. This excerpt from "The Real Dirt on Farmer John" illustrates some of that work. 
Size of farm: 100 acres 
Diversity of produce and livestock: We are a CSA farm with about 50 vegetables and herbs. Click here to view a calendar of crops we grow. The Angelic Organics Learning Center has a small, diversified livestock operation based on the farm: cattle, chickens, ducks, pigs at times, goats, and a horse. An apprentice might be able to work a bit with the Learning Center livestock.
Skills that can be learned: See Angelic Organics' Skills Checklists (PDF)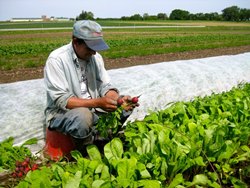 Apprenticeship details: Angelic Organics has been working with apprentices for 14 years, on and off. Only apprentices who seem like a great fit at Angelic Organics will be considered for a position. Candidates need to already have some farm experience. Most of the education is hands-on, but there is also some theoretical framework offered, given the 20 years of Anthroposophical and BD study by the head farmer. We are very busy at this farm, so it can be challenging to slow down enough to train/background an apprentice in what is needed, but if the fit is right (as it is now with our current apprentice), the training and mentoring come naturally and feel like they are part of the flow of the farm. We only have housing for one apprentice available on the farm. Winter housing is not likely. Compensation is minimum wage, minus a modest housing charge.
Mentor farmers: Head Farmer John Peterson and Growing Manager Chris Voss
Address: 1547 Rockton Rd, Caledonia, IL 61011
Phone: 815 389 2746     Email: apply@angelicorganics.com
Website: www.angelicorganics.com