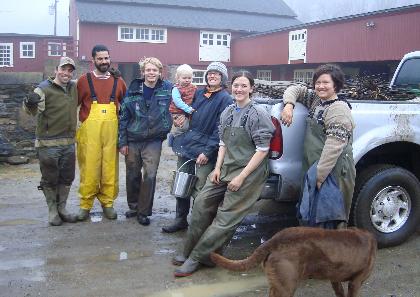 "One of my favorite parts of the program is the skills checklists. I love them and use them with all my apprentices. I've also noticed that the apprentices that come to us through the program tend to be of a higher caliber. You really do get a wider range of candidates for your apprenticeship positions, and people who have a specific interest in farming as a career."
- Robin Verson, Hill and Hollow Farm
Carefully selected mentor farms form the core of the North American Biodynamic Apprenticeship Program. Each mentor farmer understands and practices biodynamic agriculture and has a passion for and dedication to educating the next generation of farmers, not just receiving labor from apprentices. We welcome applications from established biodynamic farms to join our mentor farm network.
Benefits for Mentor Farms
Support in your educational mission: Program elements like the Skills Checklists, farm journal, and independent project provide you with a structural context for the hands-on education you are already providing to your apprentices. Beyond the on-farm training that you are able to offer, your apprentices will also have access to educational farm visits and classroom study courses.
Highly motivated apprentices: Because NABDAP is aimed toward applicants who have a serious interest and commitment in learning about biodynamic farming, you will likely find that applicants are more highly motivated.
Support in your development as a farmer and mentor: Mentor farmer peer support phone calls, in-person gatherings, and workshops offered at the North American Biodynamic Conference offer connections to other mentor farmers and instruction and inspiration in your own professional development.
The program guidelines allow room for each farmer's unique style and circumstances, so if you have already been working with apprentices, you won't need to change much. You will continue to be able to choose which apprentices to work with and, as a mentor farmer, you will continue to make your own arrangements with apprentices regarding room and board, finances, time off, etc.
Mentor Farmer Responsibilities
NABDAP mentor farmers are responsible for:
Providing hands-on instruction in the principles and practices of biodynamic farming
Working with NABDAP's structure, including Skills Checklists, farm journal, independent projects, evaluations, and giving space for apprentices to participate in coursework and conferences
Participating in mentor farmer phone calls, workshops, and conferences to support their professional development
Maintaining a current membership in the Biodynamic Association
The mentor farmer agreement and mentor farmer seasonal checklist provide more details as to what is expected of NABDAP mentor farmers.
In doing these things, you will have the support and assistance of the NABDAP Coordinator as well as your Regional Coordinator. Coordinators will meet regularly with the apprentices, help keep track of paperwork, and work to solve any problems that may arise.
Application Process
Mentor farms must be established for at least three years before joining NABDAP and must incorporate biodynamic principles and practices in a significant way. Before applying to participate in NABDAP, a mentor farmer should have at least five years' experience in biodynamic farming, including at least three years as a farm manager and at least two years educating and working with interns or apprentices.
To become a mentor farm with the North American Biodynamic Apprenticeship Program, you will need to complete an application packet, which includes:
Mentor Farm Application: this tells us about you and your farm, your history, location, practices, and work with apprentices.
NABDAP Skills Checklists: these are used to indicate the skills that you are willing and able to teach apprentices on your farm.
Mentor Farmer Agreement: this outlines your role and responsibilities as a NABDAP mentor farmer and verifies your agreement to fully participate in the program.
These documents are reviewed by the NABDAP coordinator, followed by phone or in-person interviews with the prospective mentor farmer and references, and a site visit to the prospective mentor farm. Through this process, farms that are found to be a good fit with NABDAP will be added to the list of participating mentor farms and apprentices working on the farm will become eligible for enrollment in and graduation from NABDAP. Mentor farms are re-evaluated periodically to ensure continued fit with the program.
If you are interested in participating in NABDAP as a mentor farm, please download and complete the application documents below, or email nabdap@biodynamics.com to request an application packet.
---