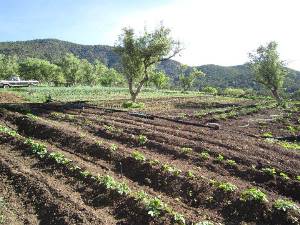 Bella Farm is an ecologically diversified family farm, founded in 2005 in a 75 year old apple orchard. Situated on 12 fertile acres, overlooking the agricultural lands of the North Fork Valley, Bella Farm is surrounded by snowy mountains and blessed by volcanic soils and a favorable microclimate. 
Bella Farm draws its inspiration from many sources. The local tradition of organic fruit growing in the North Fork Valley, small family dairy farms in historic America, the pristine ecology of native wilderness, and the rich traditions of peasant farming around the world all inspire us to farm in a way that honors the past while looking to the future. Accordingly, our homebred Brown Swiss dairy cows eat nothing but lush pasture during the summer milking season and help to build the Biodynamic soils in their market garden that produces heirloom vegetables from homegrown animal composts. Farm hatched heritage chickens range freely in a newly planted peach and apricot orchard and fatten on excess milk from the dairy. Nutrient rich water from the rainbow trout pond irrigates the mountain meadow pastures on which the cows free range, completing the farm nutrient cycle.
Participating with nature produces abundance while enriching the Earth. The farm produces a variety of high quality products including raw milk and yogurt, chicken and duck eggs, pastured beef and poultry, heirlooms vegetables, orchard fruits, and medicinal herbs. Traditional fermented foods are brought to life in the underground cellar.  Wild and cultivated plants are processed into natural herbal medicines. We continue to work with our customers and nature to produce new products that enhance our farm's overall productivity and fertility.
We have been practicing biodynamics on our farm since its inception. We believe fundamentally in the concept of the living farm organism. We utilize biodynamic composting as the backbone of our farm fertility program. We breed our own cows and chickens, and vegetable seeds on farm. We plan, harvest, and time all farm operations in harmony with the cycles of sun, moon, and cosmos.
Size of farm: 12 acres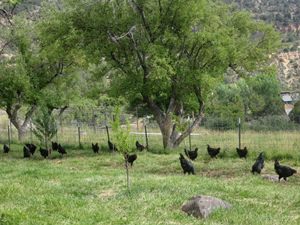 Diversity of produce and livestock: 
Brown Swiss Dairy Herd, Raw Milk Share Program and Bull Beef
Farm Bred 'Eldorado' Chicken flock for meat and eggs
Pigs for meat in summer
Rainbow Trout in Pond
Market Vegetable Garden and Greenhouse, wide diversity of annual vegetables
Raspberries, Strawberries, and Table Grapes
Fruit Orchard with Peach, Apricot, Nectarine, Plum, and Pear
Medicinal Herbs grown and processed on farm
Skills that can be learned: See Bella Farm's Skills Checklists
Apprenticeship details: Mentoring apprentices is another dimension of our highly diversified family farm.  We have not historically relied on outside labor to operate Bella Farm, so we are not in a position of needing such labor to make our farm work.  Rather, we are interested in teaching new farmers the knowledge that we have developed ourselves through years of study and hard work.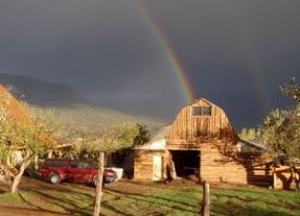 Before starting Bella Farm, Adam was an educator, having taught many subjects from preschool to high school.  We plan to commit 8 hours per week of dedicated apprentice instruction, in the subjects of their choice, based on an individual curriculum that is developed between apprentice and mentor.
We have a 2 bedroom apartment with kitchen for our apprentices. Being an off-grid farm, the apartment does not have running water or electricity, but it is a very nice habitation with full kitchen, wood stove, and private bedrooms. Apprentices would share this apartment.
Food is provided for our apprentices, both from the farm, and some purchased foods as well.  A wholesome diversity of organic food, excluding meat, is provided as part of the apprentice package.
We would like apprentices to commit to a six month initial stay.  To compensate Bella Farm for its time spent teaching, room and board, insurance requirements, and other costs, we charge apprentices $650 per month, for the first six months. The apprentices will work 25 hours per week on the farm, allowing enough free time in their schedule to permit working a part-time job in town to earn income if needed.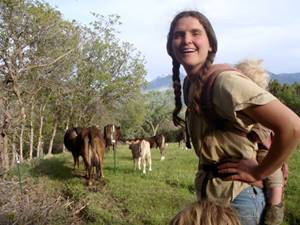 Mentor farmers: Adam and Alison Klaus
PO Box 1156, Paonia, CO 81428
Farm Facebook Page / (970) 527-5703 / bellafarmer@gmail.com