Friday, October 9 - Sunday, October 11, 2015
with Beth and Nathan Corymb, Cristina Geck, Cameron Genter, Daphne Kingsley, Kirk Mills, and Dennis Stenson 
at Shining Mountain Waldorf School in Boulder, CO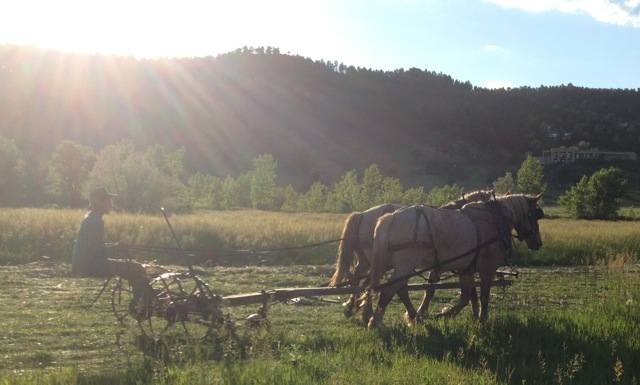 Biodynamics is a transformative movement for agriculture renewal. Join six experienced biodynamic farmer educators from our High Plains region for sessions on the inner development of the farmer, biodynamic perspectives on the co-evolution between earth and humanity, and innovative principles to nurture a new partnership with nature. 
Workshop farmers and educators include: 
Beth and Nathan Corymb of Meadowlark Hearth Farm in Scottsbluff, NE. Beth and Nathan are master biodynamic farmers and seed growers who founded Turtle Tree Seeds in 1994. They combined seed work with social therapeutic work for special needs adults at Camphill Copake, NY. Beth and Nathan also founded Meadowlark Hearth Farm and Seed Initiative in 2010 on Beth's grandparents' 492-acre homestead in Nebraska. 
Dennis and Bailey Stenson of Happy Heart Farm in Fort Collins, Colorado. Dennis and Bailey pioneered the first community supported agriculture (CSA) farm in Colorado. They have stewarded their biodynamic soils for 32 years. 
Cameron Genter and Daphne Kingsley of Light Root Community Farm in Boulder, Colorado. After nearly a decade of building wind and solar powered micro dairy in Wisconsin, Cameron and Daphne moved to Colorado to start up a grass fed raw milk micro dairy in the foothills of Boulder farmed with draft horses. 
The workshop schedule is Friday from 7 to 9pm, Saturday from 8am to 5pm, and Sunday from 9am to 2pm. Download the full workshop overview. 
Registration fee for the full weekend is $300, including lunch on Saturday and Sunday, with sliding scale options for those with limited income. While we encourage everyone to participate for the full intensive, partial registration options are also available.