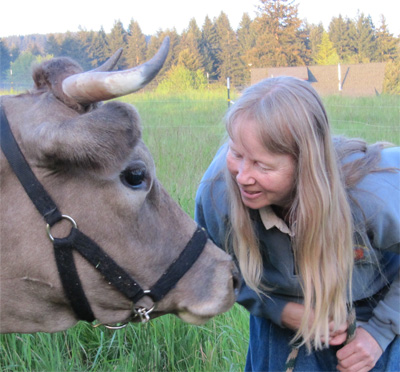 At Friendly Haven Rise we have an earnest daily relationship with the elementals. We work with our animals closely, especially the honey bees who have communicated tremendous knowledge to us. Much respect and care go into the wildness of our farm.
We are an educational farm with classes that include the spiritual life of honey bees and an equine bodywork career program. Highlights in 2013 include Sacred Beekeeping and our annual heirloom apple festival. We offer ongoing farm classes to the public through the year. 
 
We've been using biodynamic methods since 2005. We apply BD sprays faithfully. Our farm runs as a three way relationship with counsel taken from each of us (Jacqueline & Joseph) and the Farm. When we have questions about what direction to go in, we ask two questions: "What is best for the marriage? What is best for the farm?" Maintaining a harmonic energetic on the farm is of paramount importance to our work here. We don't know everything about biodynamics but what we do know, we use well.
Size of farm: 18 acres
Diversity of produce and livestock: Beef and dairy cows, dairy goats, layers and broilers, turkeys, many honey bees. A dozen kinds of apples, grapes, berries, other fruit, vegetable garden, two high tunnel greenhouses and we always have a construction project or two going.
Skills that can be learned: See Friendly Haven Rise's Skills Checklists.
Apprenticeship details: We seek interns who are energetically sensitive, have a high degree of emotional maturity and embody immense kindness. Interns participate in our farm classes (except equine career program). We hope they learn how to be in heartfelt communication with the elementals, the gardens and the animals. We expect them to be intelligent self-starters with initiative. We will help them design a project here on our farm that requires observation skills, knowledge of the land's abilities and wise use of our facilities and tools.
Our teaching cottage has a kitchen, bath, DSL. Sleeping arrangements include seasonal good-size tents and comfortable real beds during warm weather and the teaching cottage does double-duty as living space during cold weather. Work schedule is 8 hours a day 6 days a week. Compensation includes educational classes, food and lodging. Apprentices are expected to spend an additional 2 hours a day reading and studying biodynamics books, videos and audio that we make available. Through participation in this program we intend our apprentices learn practical biodynamic methods and also become more mature in their thinking and being.
Mentor Farmers: Jacqueline and Joseph Freeman
Address: 20309 NE 242nd Ave, Battle Ground, WA 98604
Phone: (360) 687-8384
Email: friendlyhaven@gmail
Website: www.friendlyhaven.com