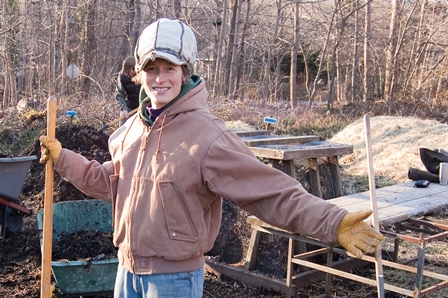 ©Pfeiffer Center

The Biodynamic Association's beginning farmer training program, the North American Biodynamic Apprenticeship Program (NABDAP), began with a handful of apprentices and mentor farms in 2009. Since then the program has blossomed and grown, with mentor farms across the United States and Canada and nearly 40 apprentices currently enrolled. People often inquire as to what graduates of NABDAP go on to do, so Director of Programs Thea Maria Carlson recently asked one the program's first graduates, Megan Durney, to share her experience.
Originally published in the Fall 2013 issue of Biodynamics.
---
Thea: What inspired you to pursue biodynamic agriculture and participate in NABDAP?
Megan: I entered into biodynamics because I wanted to participate in an agricultural activity that was conscious, where farmers are awake to the true impact they have on the land and the earth as a whole. Coming to the Pfeiffer Center, a biodynamic training center in New York, was the first step I took on this journey seven years ago. An established training in biodynamics is very important to develop, and I joined NABDAP to support and participate in this effort. Many young people entering into biodynamic farming presently do not have an agricultural schooling but have heard a call to bring a healing impulse to farming. In order to honor this call and the future, biodynamic practitioners need to provide a conscious training program in the art of biodynamics, A focused program is especially valuable for those who have a limited amount of time to participate in a training, and my hope is that NABDAP will continue to evolve to meet the needs of incoming farmers so that they may meet the needs of the future of agriculture.
Thea: Where has your journey taken you since you completed the program?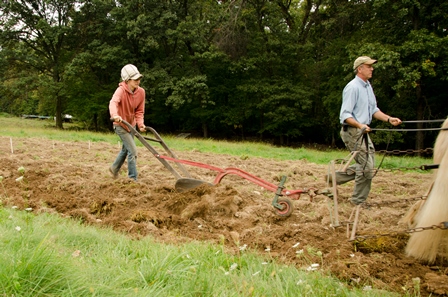 Megan: Since my completion of the program, I am still involved in the activities of the Pfeiffer Center. I am presently a staff member, assistant to Mac Mead, the director of the Pfeiffer Center and have taken on many responsibilities, which has enhanced my learning about and participation in the impulse of biodynamics. Currently, I am the main vegetable grower and primary beekeeper plus spend most of my hours working alongside the Pfeiffer Center interns attempting to enrich their education by sharing my agricultural experiences. I also co-teach classes for adults and children. My interests and projects have expanded immensely as I delve deeper into learning about the biodynamic preparations and the partnerships between the animal and plant kingdom. A few living questions which have inspired my steps are: What is the relationship between the human being and the farm individuality? What is the future of agriculture asking of us? How do I enter into right relationship with the Earth and all the kingdoms of nature as a farmer?
Thea: What elements of your apprenticeship training have continued to be valuable to you?
Megan: Socially, the NABDAP program has been very valuable to me. Working and learning alongside others who are participating on an intentional learning path has created a bond, which not only supports a human network but also the impulse of biodynamics. The thoroughly thought out checklist of skills has also been a supportive learning tool, which can guide one towards their goals.
Thea: What advice would you give to a young person who is interested in becoming a biodynamic farmer or gardener?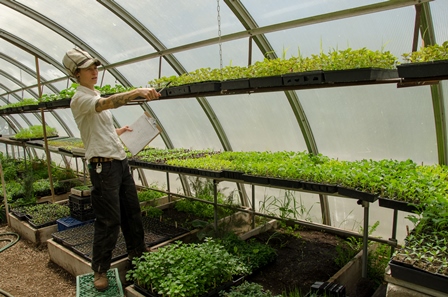 Megan: Live into this interest not only as something personal but also as a task for humanity and the Earth. Biodynamics is not a method but an art as well as a healing path. Biodynamic agriculture recognizes the reality that human beings' development is completely bound with the evolution of the farm. Biodynamics is a practice that not only involves many practical skills and indications from Rudolf Steiner but also involves the task of socially connecting our community members as well as developing our soulful and spiritual selves.
Thea: What are you looking forward to?
Megan: I am looking forward to continuing on my learning path all the while carrying this biodynamics impulse in my heart. I wonder about my role in the future of agriculture and am trying to realize it. I'm excited about meeting more co-workers along the way who are contributing towards a thriving agricultural future. I hope to continue to honor living questions and want to live being a "steward" of the Earth while growing quality vegetables for my community.
Megan Durney, born and raised in the Chicago area, began on her farming path after graduating with a public teaching degree and two years in AmeriCorps doing community service before and after Hurricane Katrina in the southeast. She also served as a WWOOFer and learned many good farming skills, which led her to ask, "Is there an even more conscious way to grow food?" In 2007, she found her way to the Pfeiffer Center, which is located in the Threefold Educational Community. She presently spends her time co-working with Mac Mead, the director, trying to uphold the mission of the Pfeiffer Center, which "is to practice, teach and spread awareness of the biodynamic method of agriculture and land care."