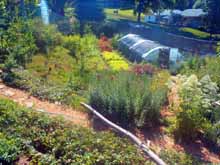 Living Roots Ecovillage operates both an in town permaculture garden and a rural market farm. We merge the healing arts with the work we do with plants. This involves mentoring of the apprentices, not only at the farm level, but also a deeper personal level. We merge personal process with the farm process - using the garden as a mirror for personal growth. The Healing Arts (we mainly focus on massage, yoga, and meditation) help apprentices navigate the program from a mind, body, heart, and spirit perspective. Michael also has significant background in business and is happy to work with apprentices looking to build small business skills.
Mentor farmers: Michael Hicks and Amanda McKenzie
Address: 505 1/2 Main St., Suite 7, Jasper, IN 47546
Phone: (812) 639-3170
Email: amanda@indianacommunity.org
Website: www.indianacommunity.org
Size of farm: In town Permaculture Gardens - 3/4 acre; Market Farm - 3 acres
Diversity of produce and livestock: Permaculture garden includes over 175 species of vegetables, herbs (over 50 species - focused on medicinal herbs), flowers, fruits (over 25 species), nuts, grains, and bees. On a smaller scale, we produce diverse crops such as amaranth, quinoa, perennial onions, chick peas, figs, kiwis, hops, and many lesser known medicinal herbs. Our market farm produces just about any vegetable you can imagine for our 90 family CSA, Farmers Markets, and local coops/natural foods stores. Main crops are garlic/onions, brassicas and hardy greens, tomatoes, potatoes, squash, and beans. Also winter production in 3 hoop houses.
Skills that can be learned: See Living Roots Ecovillage's Skills Checklists (pdf).
Apprenticeship details: Our apprenticeship program is integral to the operation of our farm and gardens. While the apprentices are given direction under the farm's leadership, the structure of our program expects the apprentices to hold responsibility and ownership, which is based on the farm's needs and the apprentice's experience. While the Ecovillage facilities some community workshops, education opportunities are tailored to the student needs - please see the Ecovillage's Skills Checklist. There is also weekly Healing Arts instruction in yoga and massage. Apprentices are provided with full room and board, which includes housing in a beautiful historic house. Apprentices share a kitchen, bathroom, and living area with other apprentices. The apprentices are expected to work in the garden and farm approximately 35 hours each week. Classes and healing arts time occupies another 5 hours or so a week. Apprentices may arrange to stay for one season (Spring, Summer or Fall), or for the entire growing season. In addition, in 2012, we will be selecting one assistant farm manager, who has had significant farming experience, that will be paid a stipend of $700/month. This team leader should be someone who is ready for significant responsibility, yet not quite ready to start their own farm.