Preserving the Farm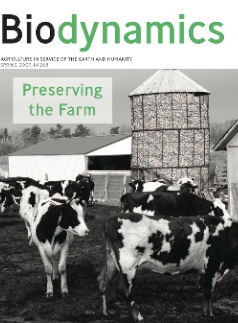 With the introduction of the North American Biodynamic Apprenticeship Program this year, the biodynamic community signaled its continuing commitment to nurturing new farmers. The Association plans to continue furthering this and other educational and training initiatives.
But farmers of all ages will need access to land, mentorship, capital and equipment, and community and marketplace support. How can we ensure that these motivated individuals will have the opportunity to succeed? We will be continuing this discussion, so please let us know your thoughts.
Email journal@biodynamics.com or write to Editor, 25844 Butler Road, Junction City, OR 97448.
To become a member, help support biodynamic agriculture, and receive this journal four times a year, please read more at on our membership page. You may start or renew your membership online, by calling (800) 516-7797, or by emailing info@biodynamics.com.
Gift memberships are also available. We greatly appreciate your membership support, which is especially important in these challenging times.
---
FEATURES
Preserving the Farm
Preserving the Land for Agriculture
Rebecca Briggs
Seeking Solutions to Preserve Your Cherished Farms
Angela L. Curtes
Seed Saving: Germination — the Awakening of the Seed
Don Tipping
Farmland Resources
---
The Role of the Cow on a Biodynamic Farm
Steffen Schneider
Love for the Earth
Heinz Grotzke
An Introduction to Anthroposophy
Beth Wieting
Is There a Correlation Between Rice (Oryza Sativa) Germination and Lunar Rhythms?
Alvaro Garcia
Pot of Gold: Joseph Phelps' Double Rainbow Surprise
Joseph Mora
Beet Writer Finds His Roots
John Bloom
NEWS AND HIGHLIGHTS
In the News
In Appreciation of Charles Beedy
Beth Wieting
Welcome to Our New Board Member: Paula Manalo
Introducing Our New Executive Director: Robert Karp
Jean-Paul Courtens
Envisioning the Future of Our Movement: An Email Interview with Robert Karp
DEPARTMENTS
Biodynamics Around the Continent
Letter from the President
Jean-Paul Courtens
Letters
JPI Update
Christy Korrow
Seasonal Recipe: Spring Vegetable Soup
Anthony Lo Pinto
* * * * * * * * *
"If we cannot grow the economy without destroying the fertility of the soil, how can we, no matter how clean our machines, hope to thrive, or, even, survive?"
Woody Tasch
Inquiries into the Nature of Slow Money: Investing As If Food, Farms, and Fertility Mattered, Chelsea Green Publishing, 2008