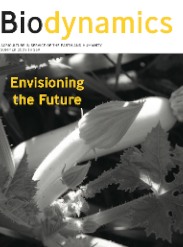 What's Living on Your Heart?
With this issue of Biodynamics, we are launching a section called "Envisioning the Future of Biodynamics." This is both the overall theme of the current issue and a new section that you can anticipate finding in every journal in the coming year — and also on a new blog that we will be launching in the near future. We hope to accomplish several goals with this effort.
First of all, we want to use this section to keep our members and friends up to date on our latest thinking about the biodynamic movement and on what the priorities and activities of the Biodynamic Farming and Gardening Association (BDA) should be in the coming years. These thoughts will be shared in the form of interviews with and articles by our board and staff and other leaders in the Association at this time. If you have questions you would like to have us respond to in these pages, please don't hesitate to ask.
Secondly, we want to give as many members and friends as possible the opportunity to chime in with their own thoughts on the topic of the biodynamic movement and the emerging priorities of the BDA. In this way, we hope to offer our readers a sense of the diversity of activities and perspectives that make up the movement. We also hope new insights can emerge that will inform and illuminate the emerging strategic plan of the Association.
---
We begin in this issue with a letter from our President, Jean-Paul Courtens,
who considers the place of biodynamics in the larger sustainable agriculture world and the shared values that can allow us to collaborate and even "become champions" of the burgeoning movement toward the local and toward community. Recurring updates on other national biodynamic organizations and groups with whom we closely collaborate — the Future of the Preps group, the
Josephine Porter Institute for Applied Biodynamics
, and
Demeter USA
— provide additional forums for discussing the future. Our new executive director,
Robert Karp
, continues his email interview on the future of biodynamics and the national Association, discussing the future role of
regional groups
and the importance of the youth movement. Leslie Loy describes how a new collaborative organization,
WeStrive
, will build upon the enthusiasm and activism of today's young people, finding ways to connect them and strengthen their impact — a theme also echoed in Kimberly Barnes' overview of Nathaniel Thompson's presentation on establishing cooperative farming communities.
Don Tipping then brings us into the practical realm, urging us to consider how to breed plants so as to meet the future challenge of climate change. Looking toward the economic realm, Jean-Paul Courtens gives his perspective on Woody Tasch's new Slow Money movement, and Robert Karp concludes his five-part series with an inspiring vision of how the diverse stakeholders of the sustainable agriculture movement can move toward a convergence that will allow all to realize the "deeper mission."
Finally, we are excited to inaugurate a section that includes perspectives on the future of biodynamics from a number of our members and friends. We encourage you to participate, become part of the discussion, and take an active role in envisioning the future. We know how passionate our members are about biodynamics, and we want to know what is living on your heart!
Email journal@biodynamics.com or write to Rebecca Briggs, Editor, Biodynamic Farming and Gardening Association, 25844 Butler Road, Junction City, OR 97448.
Biodynamics is our quarterly membership journal. Please consider becoming a member. We greatly appreciate and rely upon your support!
Table of contents for this issue, including selected articles available in HTML. (Please check back regularly, as we will be posting additional articles.)
---
To live, we must daily break the body and spill the blood of Creation. When we do this knowingly, lovingly, skillfully, reverently, it is a sacrament. When we do it ignorantly, greedily, clumsily, destructively, it is a desecration.
- Wendell Berry
The Gift of Good Land (San Francisco: North Point Press, 1981), 281
---
FEATURES
The Next Generation
Striving for the Planet, Leslie Loy
Reflections on Biodynamic Gardening
Terra Simpatico & Biodynamic Compost, Maggie Lee
Reflections on the Future of Biodynamics by Members and Friends
Paula Manalo, Mike Benziger, Hilmar Moore, John Peterson, Sharon Carson, Su Hoskin, Jeff Poppen, Karen Davis-Brown, Marke Levene, Devon Strong
Voices from the Farm
We're in Our Limbs!, Kirsten Clauson
Associative Economics
Non-Profit, For-Profit Cooperation in an Associative Economy, Robert Karp
Associative Economics
Slow Money/Slow Food: A Farmer's Take, Jean-Paul Courtens
Poetry
Finding Our Farm, Jacqueline and Joseph Freeman
---
NEWS AND HIGHLIGHTS
In the News
Josephine Porter Institute Update
Gena Nonini
Future of the Preparations
Exploration and Research of Preparation Quality, Karen Davis-Brown
Becoming a True Association
Continuation of an Email Interview with Robert Karp, Rebecca Briggs
Farmer Mentor Workshop
Growing a Farming Community: Nathaniel Thompson on the Cultivation of a Complete Life, Kimberly Barnes
---
DEPARTMENTS
Biodynamics Around the Continent
Letter from the President
Jean-Paul Courtens
Seed Saving
Heirlooms of Tomorrow: Breeding and Selection for Adaptation to Climate Change, Don Tipping
Seasonal Recipe
Fennel and Summer Peach Salad, Anthony Lo Pinto
The Last Word
It's Kale and Hearty, So Strike up the Brassica Band, John Bloom