February 2014
Dear Members & Friends,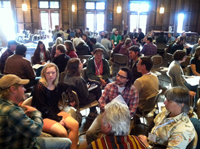 I just returned from the EcoFarm conference in California where the Biodynamic Association held a one-day pre-conference event called The Farm as a Living Organism, which was attended by over 140 people. This was followed by the main EcoFarm conference, which also featured a wide range of biodynamic workshops and attracted more than 1600 participants.
An amazing "landscape" of biodynamic topics, presenters and perspectives were represented at these events, with workshops on everything from biodynamic preparation making, to biodynamic wine making, to new market opportunities for Demeter-certified products, to integrating crops and livestock, to understanding the deep esoteric foundations of biodynamics, to the economic sustainability of the small farm.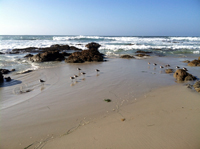 I'm not sure what was more inspiring, the powerful waves of the Pacific Ocean that were crashing on the glowing shore just minutes from the conference center or the powerful waves of inspiration that were flowing through the participants' hearts and minds!  The truth, I know, is that it was the combination of the two that made this event so very extraordinary.
I am writing you in the afterglow of this amazing event to ask you to help us continue to do just this kind of work in the world. And I am pleased to announce that thanks to challenge grant from a generous donor we are once again able to match all gifts to our Spring Appeal dollar for dollar up to $10,000!
The EcoFarm events brought home to me again the awareness that so much of the work of the Biodynamic Association in our time lies not in "pushing" biodynamic ideas out into world, but rather in creating opportunities where those whose lives have been touched by this wave of inspiration can meet, share, teach, learn, collaborate and find a higher synthesis from their diverse perspective and approaches.
Just as the heart, as Rudolf Steiner pointed out, does not "pump" the blood through the human being, but rather senses and energizes the inherent cosmic wave or pulse of the blood, so the Association does not create the spiritual force of the biodynamic movement. Our task rather is to sense the striving of this force and take actions that support and energize its inherent trajectory, so that the spiritual impulse of biodynamics can be quickened ever again and flow ever more strongly into the world.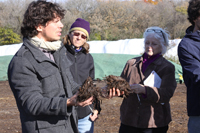 In the past months, working out of this same impulse, we organized or convened several other events and groups. For example: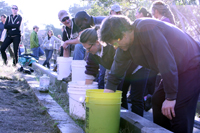 We have also awarded over $10,000 from our Scholarship Fund to help over 60 people participate in these and a host of other biodynamic events, workshops and trainings around the country.
And of course, we are now in the thick of planning our 2014 North American Biodynamic Conference that will take place this November 13-16 in Louisville, Kentucky, where we expect upwards of 800 people to be present.
As you can see, friends, we have been busy creating social-spiritual "heart spaces" designed to energize and support each of our efforts to bring health and vitality to our food, farms and communities. And your support, in turn, has made this work possible.
We are deeply humbled that once again this spring a generous donor has offered to match dollar for dollar every gift we receive from each of you up to $10,000. For your gifts, and the good thoughts that come with them, create a stream of life energy that nourishes this work—and by matching your gifts, we are able, in the same way described above, to energize and multiply their value and effectiveness!
So, please, if you can, be generous, for it will return to you a "thousandfold."
In the good spirit of biodynamics,
Robert Karp

Executive Director
P.S. You can learn more about the EcoFarm events and watch a wonderful slideshow on our event overview page.