by Blaire Ladd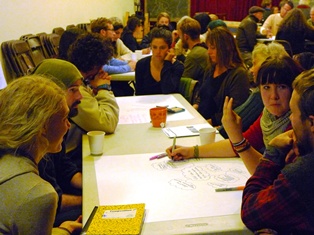 Our first California BING Meetup in January was a huge success! The event was hosted at the BDANC (Biodynamic Association of Northern California) winter meeting at the majestic Frey Vineyards. We had about 30 people join us to meet and discuss in a World Cafe format three issues pertaining to the next generation of farmers:
What does the new farm inspired by the future look like?
How do we welcome the future of agriculture together, in partnership between older mentors, younger farmers and communities?
How do we empower this impulse?  
Paula Manalo Gaska (Mendocino Organics) and I hosted these three exciting questions.  Using the "World Cafe" format as a formula to host a regional event we had people gather in groups of 4-5 to sit together and easily grow a creative dialogue. We used poster size pieces of blank paper to draw, write and sculpt ideas with, forming visions of farms and communities for the future, and then shared our insights in a collective harvest (see below for pictures).
I felt strongly drawn to host the meetup because of the inspiration I experienced at the 2012 North American Biodynamic Conference. I wanted to bring that spirit back to our regional group, and help create a pilot for regional BING Meetups around the country. With these different but similar experiences, we are creating answers to the same questions that we all must help to empower. People are eager to make a shift towards nurturing and caring for the earth and each other. The BING Meetup Toolkit makes hosting an event easy and straight forward.  BING creates a platform for the next generation of farmers to work on growing a future for us all.
Blaire Ladd is a NABDAP apprentice at the Raphael Garden, Rudolf Steiner College in Fair Oaks, CA.