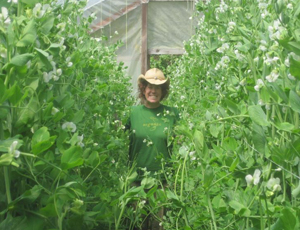 By Virginia (Ginger) Salkowski
Thank you for the scholarship to attend the "Farm as a Living Organism" biodynamic pre-conference to EcoFarm 2014. I enjoyed the entire EcoFarm conference this year and more so because the presence of the BD community was more strongly felt throughout the event than in previous years. I chose to attend the 4-hour BD compost making workshop and also attended "Economics of a Small-Scale Farm," as well as the opening and closing events. I found all the workshops to be highly useful to me as a small-scale vegetable farmer who has been newly introduced to BD in the last year.
I run a diversified CSA farm on the Oregon coast and am a member of the Oregon BD group. I ordered a full set of preps from the OR BD group last summer and participated in several group events where we made preps. I find that when I am at a gathering of BD farmers I am deeply moved and inspired by the energy of the preps and of the principles of BD to use them on my farm. However, when the preps arrived mid summer on my farm, I was in the middle of full production and sales to a 65-member CSA and farmers markets, etc. I got the preps and felt intimidated by my lack of experience using them. Without the support of other BD folks, of which there are none in our community, I kept the mailing box of preps in a drawer and "hid" from them for the rest of the season. I knew I should use them, but the work of farming and my own lack of confidence in BD prevented me from doing it.
It was with this "prep guilt" I came to the BD pre-conference at EcoFarm. I was needing support, reassurance, information, and confidence to use the preps on my own. I attended the opening of the conference and was immediately reminded why I started with BD in the first place. The acknowledgement that farming is a sacred act, that farmers play a spiritual role, and that the energy of the plants and of nature is inviting us to heal the earth was reaffirmed. I felt I was among a community of farmers who understand and seek a deeper relationship with the farm than simply one of production. At the same time, it is also a group of farmers who have successful farms and who do not sacrifice production for some lofty spiritual quest. A grounded practice of deep ecological and spiritual work that produces food and medicine and heals people and the planet. I am happy to call myself a BD farmer.
I attended the 4-hour compost class and admitted that I was hiding from a box of preps! The teachers and the group reassured me to take them out and use them when I got home. I received hands-on instruction on how to stir and apply them, and many of my pressing questions were answered. I left the class with the barrier to doing BD on my farm removed. I was supported and given encouragement in every way to take the practice and make it my own, to use my intuition, and to be inspired by other teachers, but not to feel intimidated that I would do something wrong. I was also introduced to the use of dowsing rods as a way of communicating with the preps and with plants. This was revolutionary for me. I was able to make dowsing rods out of an old coat hanger when I returned, and they worked with such clarity and precision that my partner and I were able to place the preps we had in our compost pile by asking the individual preps where they would like to go. After doing this intuitive process, we discovered that the preps had been laid out in much the same pattern that I had in my notes from the class! We are now excited to make the horsetail and nettle preps this spring and also to apply 501, 500, and BC preps to the farm on spring planting.
Thank you again for allowing me to attend this conference on scholarship. The continued support from the BD organizations around me have shown me that the BD community cares about individual farmers and farms. I feel grateful and seen by the larger whole as someone who is entering into the practice from the world of organic farming and seeking to bring greater energy and purpose to the work. It is my hope that my farm can be a source of healing and a community center for our area.