by Nicki Robb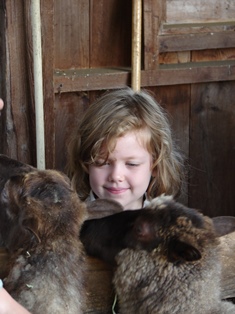 The Land Stewardship Program at the Hartsbrook School has, like the school itself, grown out of the very soil upon which this school is planted. More than 20 years ago, the fledgling program was slowly finding its way into the life and learning of our students, beginning as field trips to a local bio-dynamic farm (Brookfield Farm CSA) to join in a variety of seasonal planting and harvesting activities, then expanding to other area farms, patiently waiting for the opportunity where a full program could start to be realized at the school itself. Fast forward to today, with an almost full curriculum in place that encompasses the kindergarten, elementary, middle and high school, supporting students as they work and learn about the many pressing issues that affect our relationship with the earth.
Even the name has changed over these years to reflect the nuanced differences in how we think of connecting with the earth. It has taken many long hours of discussion and debate for the committee responsible for the oversight of the agricultural work at Hartsbrook (The Land Stewardship Committee) to find the right name that encapsulates all that we bring to our children and community through this program. What is the right word, term or phrase to use when the intent is to provide our students the tools with which to become sensitive, informed young citizens who are cognizant of the complex issues that challenge a healthy relationship to our ability to feed and nourish ourselves? We recognize that true understanding arises from a true connection, and so for each student who cares for an animal at the Farmstead, or learns how to grow a vegetable and plant grains, or overcomes the "stinkiness" of the composting class to marvel at the process of transformation, looks into a hive of honeybees while slowly growing to understand how essential these tiny creatures are to our very health and well being.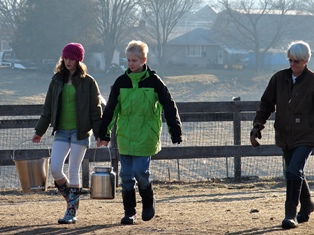 These students, regardless of what work they choose as their profession, will have come to understand the intrinsic value of knowing how to care for this earth so that we can in turn be nourished. It has become clear to us that we are educating our students to become stewards of the earth; this land, that does not actually belong to us but which we need to take responsibility for -- that is the true meaning of being a steward. And so, The Land Stewardship Program was given its name.
In the summer of 2011, thirty two acres of land abutting the main campus was transferred to the school by Alexander and Olivia Dreier, early founders and long-time supporters, whose express wish was to support our agricultural arts program of studies. This acreage has been preserved for agricultural uses and protected from development in perpetuity by entering into an agreement with the Massachusetts Department of Agricultural Resources under the Agricultural Preservation Restriction Act. We celebrated this milestone with a Harvest and Land Dedication Festival in October, 2012 when the entire school community and representatives of the governmental agencies who helped shepherd this land acquisition joined together to beat the bounds with banners, bagpipes and full throated song. What a joy indeed to have the whole community gathered in celebration of this beautiful part of the earth!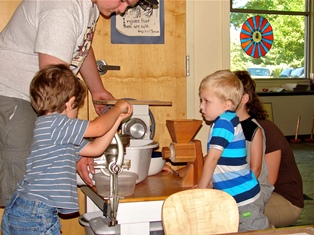 Our agricultural arts curriculum has developed, like the program itself, over time, coming to reflect a school community deeply embedded in the Pioneer Valley with its strong agricultural heritage. Being one of the first parents at Hartsbrook has meant that my connection to the school also has deep roots; it was a natural progression that while establishing Brookfield Farm as a bio-dynamic farm and CSA as neighbor to Hartsbrook, we would enjoy class visits and where, through the grades, children would come to join in a host of seasonal farm activities. Throughout the years an agricultural arts curriculum grew, slowly at first, but deepening and becoming what it is today, a full K-12 curriculum encompassing all grades and incorporating work with soil, plants and livestock.
Beginning with the youngest nursery child, who comes to visit with the animals, activities grow in complexity and variety through the grades. Nursery and kindergarten students enjoy the world of the animals through weekly visits to the animal barns and hikes through the gardens and fields. 
Classes become more formal beginning with Grade 2 with the planting of a 3-Sisters garden of corn, beans and squash, returning as 3rd graders in the fall to harvest and use the fruits of their work in the classroom. This grade also takes on the daily care of the poultry and learns about grains planting wheat, barley, oats, rye and buckwheat in the spring.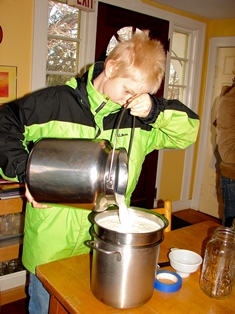 Returning as 4th Graders in the fall, they learn the process of grain harvest through threshing, winnowing, milling and baking, thereby completing the process. This class has now graduated to the larger animal and takes on the daily care of the goats, learning how to feed grain and hay, haul water and groom the animals. Regardless of weather or season, students learn the responsibility of what daily care means. Animal husbandry classes begin in the spring and here the 4th Graders learn how to work with these animals, and all contained in their care.
Animal husbandry classes become more involved in the 5th Grade where students take on the daily care of our flock of Shetland sheep and start their animal observation studies, learning about each of the different farm species, and creating an observation journal that they build on throughout the year.
In 6th Grade, daily work with the cows begins; students have now graduated to the largest and most majestic of the farm animals, and building on their work with the other less intimidating creatures learn how to handle the cows and milk by hand. Agricultural arts classes in this grade focus on the transformation of substances through the composting process and students build multiple compost piles using material from around the Farmstead and campus. In the spring, students select the vegetable of their choice and as a class we begin the planting and cultivation of a kitchen garden.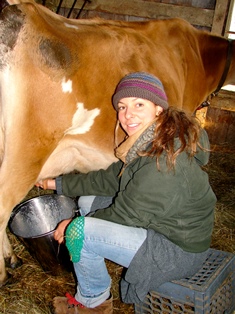 Returning as 7th graders they learn how to plan and prepare nutritious meals using vegetables from their garden. In the spring, building on their knowledge of plant cultivation and in preparation for 8th grade beekeeping, students plan and plant an insect pollinator and seed production garden.
8th Grade agricultural arts classes focus exclusively on the study of the honeybee and work hands-on with the hives. What a wonderful complement to adolescence! Observing the majesty and intricacy of such an involved and complex community of creatures elicits jaw-dropping awe from 8th grade students.
Agricultural studies continue through the high school with a 10th Grade Farm Practicum that has students working on our own land as well as trips to area farms to work and learn about agriculture in different farm environments.
11th Grade students are shown how to use farm products in the kitchen through a Farm To Table class. Guest speakers guide our students through the complex world of cooking, focusing on aspects of food preparation such as cheese culture, fermentation, and different methods for putting food by.
All of the agricultural arts classes throughout the grades culminate in a 12th grade course on Human Relationship with the Earth: Issues in Sustainability and Land Use. Building on work and studies throughout the grades, students are introduced to current issues affecting our relationship with the earth. Course readings (such as Daniel Hillel, Wendell Berry, Michael Pollan) are complemented with independent projects that focus on in-depth studies of new and innovative local agricultural initiatives (CSA, Farm Markets, Urban Farm Initiatives, Land Conservation Trusts) to name a few.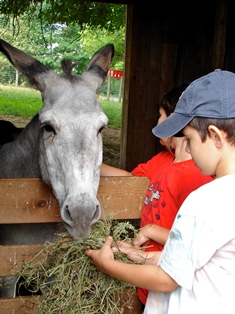 As the program grew, it became clear to us all that this could no longer be sustained by a part-time teaching position. We, as a school, wanted to see realized a full agricultural arts curriculum, one that provides learning opportunities to all our students as well as the wider community. It was becoming evident to us as teachers that our children were becoming increasingly in need of opportunities to connect with the natural world around them and we were at a point where it was also clear that we needed to press ahead and turn this part-time program into one that truly reflected our hopes and aspirations for all of our students. As a result, I came on board full-time in 2008 to oversee The Land Stewardship Program as we worked towards the implementation of a full agricultural arts program. This step would not have been possible without the assistance of The Land Stewardship Committee, comprised of faculty (representing the different departments within the school) and parents; a committee that has been charged with the management and oversight of The Land Stewardship Program at Hartsbrook.
Incorporating an agricultural program into the life of a school can be a significant financial challenge to any institution; with this in mind, we augmented our school year programming with a series of Hartsbrook Farm Camps during vacation weeks. These programs serve multiple functions, providing a significant funding source for the school and as a tool for enrollment and outreach.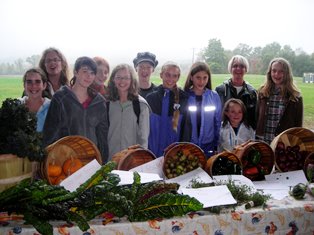 We welcome over 200 children and teenagers to our campus over 4 weeks in the summer ranging in age from 4-15, giving campers the opportunity to work hard and have fun. Daily work with our farm animals is complemented by agricultural craft activities; whether making cheese and butter, baking bread, felting wool or making paper, campers are introduced to crafts that arise naturally from life on a farm. Nearly all of our campers come from public and other private schools, some returning farm campers and some new -- but all enjoying the opportunity to experience a world that our Hartsbrook students enjoy daily.
We see evidence each day of the many ways that our children have lost a real connection to the world around them. As technology replaces human interaction, our children are losing the ability to forge meaningful relationships, experienced at the deepest level. This becomes a loss for the human soul and our ability to experience empathy becomes seriously compromised. Developing soul capacities that help us form healthy connections has never been so needed. Over the years I have come to recognize how deeply we feel this lost connection to the world of animals; how we yearn for it and ultimately how important contact with these creatures in all their variety and diversity becomes to support a healthy soul life.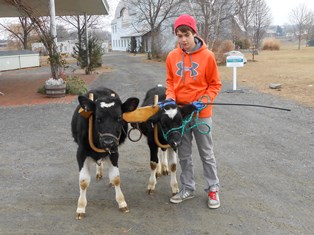 The cows play an enormously large role in the life of Hartsbrook. They stand as the culmination of our children's studies of the animal kingdom and animal husbandry studies and stand supreme amongst the world of farm animals, balancing the universe and the earthly in one large, sentient being. Working with these creatures is a gift beyond measure and being able to sit astride a milking stool, head resting upon the flanks of a cow and feel the enormous presence of these creatures as you hand milk, is an immeasurable gift. Enabling our 6th Graders the opportunity to experience this is an important part of the agricultural arts curriculum but also for every Farm Camper that joins us in the summer. These experiences, whether feeling the warmth of a newly laid egg in the palm of your hand or listening to the cow as she chews her cud, these experiences with all of their sensory delights, awaken soul capacities in all of us, regardless of age.
We are starting to recognize a growing interest amongst college-age students in farm-based education for children. We see in our neighboring college community an increasing number of students wanting to connect with the land and teach others as well. How wonderful! We believe that the next chapter in the life of the Land Stewardship Program will be to offer internships to just this population, enabling hands-on learning opportunities that benefit both school-age child and college student.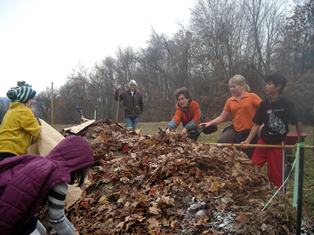 This will be another step in what has been a slow and steady growth. Our intention has always been to grow slowly. I think of it a little as one does when opening up a new garden; you start small and make sure (as best you can) that it doesn't get too weedy and out of control! 
I have been asked whether we are a farm in a school or a school in a farm, and I answer: neither. This educational/agricultural entity is a being unto its own, created with one purpose – to foster in our students, school and wider community a true and healthy relationship to the world around us. This is the pressing need of our time. The challenge is to recognize how this new being, with its own unique identity can be fully realized. Therein lies the work.