by Dana Burns, with photos by Zuri Burns
Southland, New Zealand - The Winton A & P Show
Rudolf Steiner's original Agriculture Course was presented exclusively to practicing farmers. 
"It ought to be clear to anyone that people have no right to talk about agriculture, including its social and organizational aspects, unless they have a sound basis in agriculture, and really know what it means to grow grain or potatoes or beets. Without this you cannot talk about the economic principles involved. These things have (to) be derived from real life and not merely from theoretical considerations."  
But where are these people that practice agriculture, the real farmers today? They are not so easy to find in America, for example, when only 952,000 ( 0.7% of the US working population) declared themselves to be in either fishing, farming or forestry as their primary profession in 2000. (Source: US Census)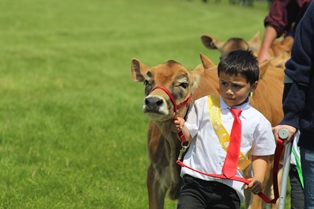 Here in Southland, New Zealand, agriculture is woven into the lives of all ages of people from the very young to the very old to a degree that was not even present when I was a child in Colorado in the 1960s. There I used to attend the Larimer County Fair with my grandmother who often entered her famous pies in the pie contests. Farming at that time was already becoming more and more mechanized and monoculture and people were leaving the land in droves.
Each year in Southland almost all (even very small) towns have an annual A & P (Agricultural and Pastoral) Show. People from the community come together in healthy, community spirited, sportsman-like competition to showcase their year of work and pride in an agricultural field or craft. The pinnacle of the show competition is in the annual NZ Crossbred Lamb Shearing Championship. Shearers come from all over New Zealand to compete in 4 grades: Junior, Intermediate, Senior and Open.
The intricacies of this sport may be difficult to appreciate for those who have never tried to shear a sheep. When asked exactly what qualities it takes to be in the shearing competition, competition organizing committee member Robbie Watkinson said: "They are just exceptionally fit athletes. And very determined." Shearing demands a high degree of strength, speed, endurance, technique, finesse, and care of equipment. Technique is involved even in the minute details of how one handles the sheep so that they do not struggle in various positions. A fraction of an inch one way or another can make a huge difference. Finesse involves cutting the wool properly and not cutting the fine and delicate contours of the sheep while going at incredibly rapid speeds with razor-sharp, electrically powered clippers.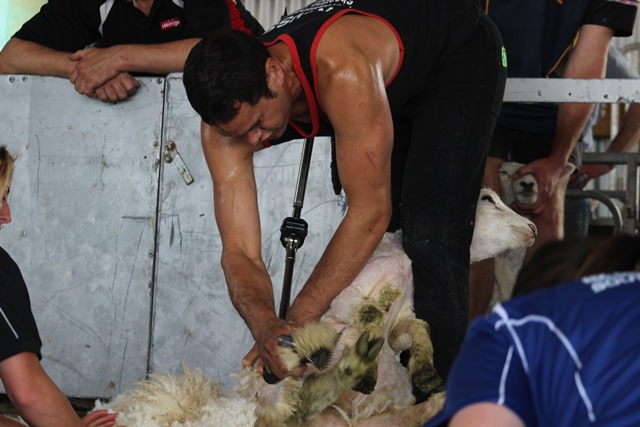 Winners in the open division shear 20 sheep in approximately 17-18 minutes! Wool handlers are flying and the support crew and competition committee are making sure that the lambs are organized in the proper way, and judges focus with rapt scrutiny on detail. Points are deducted for any miss-cuts in the wool, any cuts on the sheep, or a poor overall job. The announcer urges the crowd to cheer on the competitors. This is not so easy to do with the high degree of Scottish heritage and influence in the culture. The packed house of onlookers remains mostly silent, but their keen interest in the event is palpable nonetheless. Many of the able and speedy competitors are of Maori descent, and the announcer introduces a friendly ethnic competitive atmosphere. In the end a local Southland man, Nathan Stratford, wins the open New Zealand title for 2014. He was not the speediest of the day, but the quality of his shearing and his determination make up for and overcome the lost time points. 
Imagine if all the money and effort put into sports competitions worldwide produced useful products such as beautiful wool and newly shorn sheep!
The pictures tell the story of how integrally people in this part of the world work with the land, the plants, the stock, the equipment, and each other. These farm people and families are one of my favorite things about New Zealand. Qualities of strength, practicality, capability, and self assurance emanate from them as do a sense of groundedness, complete humility, common sense, and a sometimes biting quiet with often only noticeable in the twinkle of an eye. There is a sense that some of these farmers know things that you don't, about the world, about themselves, and maybe even about you! These are qualities and knowledge that just can't be measured by things like ACT, SAT, or AP scores.
Although the specter of Industrial Agriculture is raising its ugly head here as it is in most of the world, the seed of true Agri-Culture still exists in Southland. Wouldn't it be amazing if we could capture and keep the best seeds of this type of farming culture as we also draw from Steiner's profound wisdom recommended in Waldorf education to educate the next generation!