By Lori Barian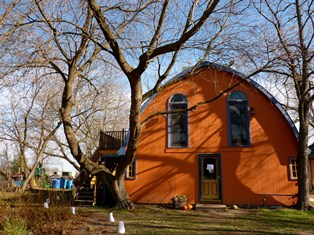 We came on a full school bus from Madison. Others drove from their homes in Wisconsin or Illinois. Others probably came right from an airport. The gathering of nearly 150 people at Angelic Organics on November 14th felt like its own major event, as "Re-Connecting to the Earth: A Farm-Based Education Intensive" was one of three pre-conference workshops being held there in connection with the 2012 North American "Sacred Agriculture" Biodynamic Conference, each of which was sold-out.
The morning was cold with brisk winds, so it was lovely to find hot coffee and tea, yogurt and granola inside the "Corn Crib" where our workshop was being held.
Once we settled in, Dana Burns welcomed us and reminded us about the importance and impact of farm-based education.  "You can take all of the serious and critical problems facing our world today and find that most have their roots in education.  I see farm-based education as actually having the greatest potential to create the possibility of hope in addressing the many earth and life- threatening issues that we face today."
In the first part of the day, we heard the story of Angelic Organics Learning Center (AOLC), presented by its co-founder Tom Spaulding and senior program director Deb Crocket, with a slide show presentation. AOLC was an initiative of several CSA members who saw that there was a need for educational opportunities on the farm, and not just so scouts would know where their food comes from, but also for torture survivors' and refugees' healing through reconnecting to the earth.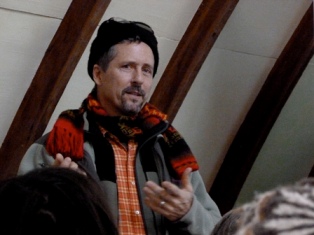 AOLC's mission is "empowering people to create sustainable communities of soils, plants, animals and people through educational, creative and experiential programs." After starting out so very small, with primarily volunteer help, AOLC now employs 15 full time and 15 part time staff, and has a budget of $1,000,000+. How did they do it? That's what we all wanted to know so that we can do it in our own communities.
One primary message in the AOLC example was the importance of a thorough planning process that makes vivid the vision so that everyone can work together toward the same goal. The plans are certainly revised along the way, but they give those working together on the project a clear sense of direction and a way to assess their progress.
Another key to AOLC's growth as an organization was given as a picture. Their work is in part planting seeds in an ever-widening spiral and then those seeds creating their own spirals. I saw that as a willingness to dig deep to give what is needed to a community, whether it is city school children doing urban gardening or CSA members learning techniques for preserving their food, and then being happy to see that learning blossom and lead to other initiatives. AOLC doesn't just do their own programming on the farm there, they are also partnering with many other like-minded organizations in a very unselfish way in Chicago and Rockford, IL.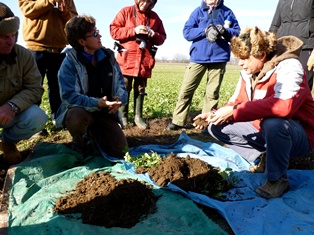 After the presentation, we split up into two groups: one group went on a tour and the other group did some chores and then they switched after lunch. My group first went on a tour with Deb Crocket. She began the tour by having us look at the soil, comparing the soil of the neighboring conventional farm with the soil in the CSA vegetable beds. As an example of how to give a tour of one's farm, it was quite a remarkable way to begin, from the ground up, getting a sense from the beginning of the qualitative nature of the work.
After lunch, my group went to work clearing weeds and spreading composted manure in one of the educational beds managed by AOLC. It was a good time to get to know some of the other participants and feel the satisfaction of hard work. And even though it was cold, with the sun and our activity, it wasn't long before were unzipping or taking off our jackets.
When we were done, we returned to the workshop space to hear from Gunther Hauk, long-term Waldorf gardening teacher, biodynamic practitioner and co-founder of the Pfieffer Center and Spikenard Farm and Honeybee Sanctuary.
Gunther began with the question: Are we connected to the earth? And while we know on the one hand how inexorably tied to the earth we are, his point was that our concepts separate us from nature; our thinking sets us apart. Wonder, awe, and reverence pave the way back, he said, directing us to the first 20 pages of Rudolf Steiner's "How to Know Higher Worlds."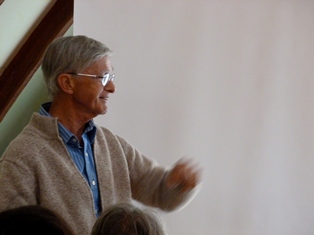 Wonder, awe and reverence also are essential ingredients of farm-based education. "We cannot make headway in our spiritual development without awe, reverence and wonder," Gunther said. "Without understanding the spiritual nature of humanity, we won't be able to go on in our evolution." We are "fouling our nest" through our materialistic approach. Gardening was incorporated into the Waldorf school curriculum "to prevent future catastrophes."
Gunther went on to give numerous examples of how awe and wonder can fill our farm and garden-based lessons. After giving us a detailed picture and deeper look at photosynthesis, he said, "every blade of grass is a miracle." As light becomes matter in us through our food, it nurtures us. Biodynamic practices can increase the light in the food. Through eating good food, we can experience levity, he said. Through eating bad food we, we can feel tired and heavy.
Gunther also suggested that reading a little something by Rudolf Steiner every day would be good spiritual hygiene as well as a good training of one's own will.
As he began his overview of the gardening and farming curriculum in the Waldorf school through 12th grade, he asked when does the training for reconnecting a child to nature begin? His answer was at conception or before and then next in mother's milk. Taste experiences can lead to gratitude and gratitude can open the door to spirit, he explained.
I can only give you a taste of what all Gunther shared in his presentation, but I hope it opens the door for you to find out more.