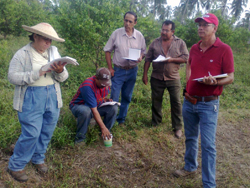 Are you looking to connect with people who share your biodynamic research interests? Seeking research-related resources or collaborators for a project?  Want to let people know about research you are doing? Check out or post to the Biodynamic Research Forum which provides a venue for such discussions.
Members can also search the Biodynamic Directory for people who have indicated research as an interest.
Here are some opportunities to participate and develop skills related to biodynamic research:
Research Guidance
Research-related advising is now eligible for support from the newly expanded Biodynamic Scholarship Fund. The fund provides financial support for individuals to participate in biodynamic workshops, courses, and conferences, as well for those seeking advice for biodynamic farming or research.

Every individual can participate in biodynamic research by being observant in their own farming and gardening activities and interactions with nature. The following resources provide guidance for understanding and conducting research.
Gardner, M. I. 2020. Biodynamic Research Bulletin: Planting Times for Trees and Perennials. 
Gardner, M. I. 1996. Some Guidelines for Experimentation in Biodynamic Agriculture. Special Report Winter 1996-1997. The Josephine Porter Institute for Applied Biodynamics. Woolwine, Virginia.
Levitan, L. 1980. Improve your Gardening with Backyard Research. Rodale Press.
The Nature Institute. Seeing Nature Whole - A Goethean Approach. 
Schmidt, D. 2005. Observations in the Field of Formative Forces in Nature – methods and results. In Star and Furrow, Journal of the Biodynamic Agricultural Association. 102: 15-18. (HTM Article)
Dennis Klocek – Lectures on Scientific Research and Spiritual Research
---