Explore the fundamentals of Rudolf Steiner's Spiritual Science as it informs biodynamics
Eight-week distance learning course with Cory Eichman
January 6 - March 9, 2020
People are drawn to biodynamic agriculture for a variety of reasons, but at the heart of the practice is Rudolf Steiner's spiritual science. This body of work is broad, vast and as complex as life itself.
In this eight-week interactive course, we will develop a deeper understanding of biodynamics through intensive study Theosophy, Steiner's own introduction to spiritual science, as a stepping stone to exploring the fundamentals of spiritual science as they inform agriculture.
Led by renowned biodynamic farmer and educator Cory Eichman of Saugeen River CSA, this is a unique opportunity to deeply explore biodynamics in a distance learning format.
This content was formerly offered in the course, The Individuality of the Farm. This is the first year the course is being offered through the Biodynamic Association in this revised format.
Course Content
This in-depth course will provide you with a firm foundation in Rudolf Steiner's spiritual science as it informs our day-to-day practical activities on the farm or garden. Your observational abilities will be enhanced to help you develop a relationship to the cosmic and earthly activities going on around us.
Theosophy will bring a background for understanding some of the deeper aspects of the biodynamic preparations, composting, soil science, botany, crop management, animal husbandry, planetary influences in nature, and the role of food and nutrition, among many other topics.
Spiritual Scientific Foundations for Biodynamic Agriculture is open to anyone with some experience farming or gardening.
A certificate of completion will be available, please review requirements here.
For the full course schedule, click here.
Course Format
Spiritual Scientific Foundations for Biodynamic Agriculture includes eight weekly live video sessions, beginning in late January and ending in March. Cory and course participants meet through live, interactive video classes that include:
Lectures from Cory to illuminate and clarify the topics of study
Readings with study questions from Theosophy
Question and answer sessions
Small-group and full-group facilitated conversation and discussion
Meditative and artistic activities
To fully participate in the live video sessions, you need to have a reliable internet connection and a computer, tablet, or smartphone with a camera and microphone. If you don't have a device that supports this video technology, you may access the course via telephone. Video recordings of each weekly session will be available to participants to review content or make up for a missed class.
This course is limited to 60 participants to foster a close learning community. To ensure continuity and a high-quality educational experience, participants are asked to commit to the full six months and late registrations will not be accepted.
Required Texts
Both books are available from Steiner Books at www.steinerbooks.org or 703-661-1594.
Steiner, Rudolf. Theosophy: An introduction to the spiritual processes in human life and in the cosmos. SteinerBooks, 1994.
Registration
Registration for the 2020 cohort is now open. Registration for the course is $200 for the general public. $180 for Soil Builder Members, $160 for Seed Sower and above members. Join to get the discount automatically! Partial scholarships are available through the Biodynamic Scholarship Fund.
---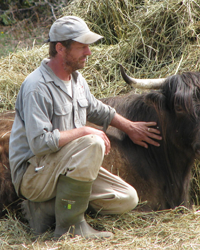 Cory Eichman has been farming in the context of biodynamic CSAs for over 20 years, beginning with an apprenticeship in 1992. In 1997, he founded Saugeen River CSA, an 80-acre draft-horse-powered biodynamic farm in Durham, Ontario. Cory has been active in the Ontario Biodynamic Society since 1998, and on the board for 6 years. He was also on the board of Demeter Canada for 6 years. Cory has mentored apprentices since 1998, and has been teaching introductory and advanced Biodynamic courses through the Rudolf Steiner Centre Toronto and independently since 2005. He helped to found the North American Biodynamic Apprenticeship Program beginning in 2006, and continues to be a member of the steering committee.