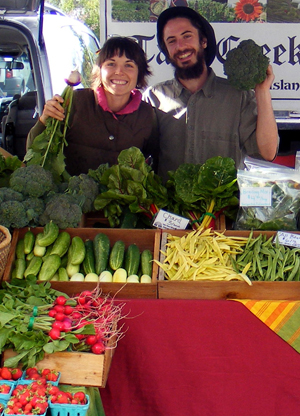 This spring, the Biodynamic Association (BDA) entered into a one-year lease agreement with an option to buy on its 35-acre Oregon property with two young farmers, Jonah Bloch and Amber Lippert. The BDA is now working together with Jonah and Amber to find an investor or partner who can help them acquire the property, or who will buy the property and provide them with a long-term lease, with the goal of keeping the land under biodynamic stewardship. 
Vision
Jonah and Amber envision the site as a productive community farm that produces nutritious foods and opportunities for education to the nearby K-12 schools and universities. The property — with its large, lovely home looking out toward the Cascade foothills from an expanse of rolling hills, pasture, and forest — has great potential to be a successful bed and breakfast or "farm stay." Jonah and Amber have a one-year lease with a one-year option to purchase the property.
This season, they will be growing about 2 acres of vegetables, flowers, and fruits, as well as raising 50 heritage laying hens. In the long term, they envision the following possibilities:
A small raw dairy (cow or goat)
Other small livestock
Orchard crops
Perennials such as berries and asparagus
Aquaculture (with the clay soils and swales on site offering potential for ponds)
Bed and breakfast or "farm stay"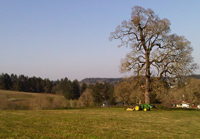 Jonah and Amber are open to creative possibilities for partnership or investment. They have considered the following possible scenarios, but welcome other ideas and suggestions:
Someone who would like to start a bed and breakfast or business that utilizes the home, or who would simply like to live in the home and work off site while Jonah and Amber continue creating a productive, beautiful farm
An investor who would like to purchase the property with a lease-to-own agreement
A partner in some aspect of the farm with co-investment in the purchase of the site
Some other creative collaboration
Find out more about the Biodynamic Association's property and house here.
Follow Jonah and Amber's progress and view photos on our blog. To find out more about their current CSA program, visit farmculture.blogspot.com. 
About the Farmers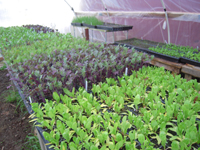 Jonah Bloch became involved with farming in 2001 when he apprenticed at Winter Green Farm under Wali Via for a season. While Winter Green introduced him to biodynamics, it also presented an incredible model for a productive, successful, and innovative farm striving not only to grow food but also relationship with community. Jonah then worked at a number of different farms in the area and at the local garden shop, Down to Earth. He also has an Associates of Science degree from Lane Community College and a permaculture certificate from the Wilder Foundation. Jonah was most recently employed at Sweetwater Farm, where he managed field production for the farm's year-round 130-member CSA program.
Amber Lippert holds a bachelor's degree in agriculture from Oregon State University and has credit toward a Masters of Agriculture Education. Her professional experience includes work on organic and transitional farms in Oregon and Washington as a producer, administrator, and manager for five years. As student volunteers, Amber and Jonah spent four months studying regenerative agriculture on four farms in Costa Rica and Nicaragua. Amber has also worked in environmental education developing curricula for grades K-12 and coordinating habitat restoration projects. In addition to farming with Jonah, Amber is currently employed by the Organic Materials Review Institute (OMRI).
In 2007, Jonah and Amber moved to the Puget Sound in Washington to help start a farm (what is now Tani Creek Farm), where for two years they were involved in all aspects of planning, growing, processing, and distributing. On this farm, they grew over 300 varieties of vegetables, herbs, and flowers for sale to market and for CSA and planted a diverse orchard of rare fruits. The seasons at Tani Creek Farm helped them learn through experience the philosophy and technical applications of biodynamic farming: making and applying the preparations, making compost, collecting plants for specific uses, using the biodynamic calendar to guide planting rhythms, and participating regional biodynamic meetings.
In 2009, Jonah and Amber started their own CSA in Creswell, Oregon, Camas Swale Farm, on two leased acres. The site in Creswell was a bare, fallow field overgrown with blackberries and wanting some attention. With no heavy equipment, solely through the use of hand tools, Jonah and Amber were able to network, rent, and borrow in order to get things rolling. With the field tilled, beds raised, and crops planted, they organized a 22-member CSA within a couple months and were distributing produce by July. The Creswell site offered some interesting obstacles, which presented Jonah and Amber the opportunity to use their research skills and immediately implement them.