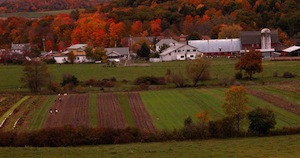 Hawthorne Valley Farm is located in the foothills of the Berkshire Taconic range and shares the valley with its sister programs, the Hawthorne Valley Farm Visiting Students Program and the Hawthorne Valley Waldorf School. This gives the farm its unique character of being the home, not only to its own farming operations, but to a whole community of interesting and like-minded people. Hawthorne Valley Farm includes several commercial operations: its own creamery, bakery, and Farm Store as well as its own 300-share CSA and a department devoted to marketing its products to various farmers markets, including the well-known Union Square Green Market in NYC. Hawthorne Valley Farm apprentices work with and learn about the interrelationships between the milking herd, the rotational grazing system for that herd, the fifteen acres of mixed vegetable fields, and get an overview of the administration of the 300-member CSA. They participate in a thriving, artistic and socially aware community life and are exposed to the financial operations of a highly economically diverse Demeter Certified Biodynamic® farm.
Size of farm: 400 acres
Skills that can be learned: Livestock skills, gardening and greenhouse skills, machinery and equipment skills, forage making skills, BD preparations production skills. See Hawthorne Valley Farm's skills checklists.
Apprenticeship details: All Hawthorne Valley Farm apprentices experience farming through hands-on learning on our diversified Biodynamic farm. Apprentices rotate through all areas of the farm, working with the field vegetables, Corner Garden, milking herd, and livestock operation. The Farm's focus is both production and education. Apprentices work with the farm team to learn the daily rhythms in each part of the farm and participate in discussions with the farmers. Collaborative Regional Alliance for Farmer Training (CRAFT) and other activities/classes are available through the other branches of Hawthorne Valley Association. The Whole Farm Apprenticeships focus on the overall picture of the farm. The Advanced Livestock/Vegetable Apprenticeships focus on either vegetable or livestock operation. For more information visit http://hawthornevalleyfarm.org/apprenticeships (link is external)
Mentor Farmer: Lucy Marston (apprentice coordinator), Bob Bower
Address: 327 Route 21C Ghent, NY 12075
Phone: 518 672 7500 ext. 237 E
mail: apprenticeships@hawthornevalleyfarm.org (link sends e-mail)