Since 2009, over 100 aspiring biodynamic farmers have participated in our North American Biodynamic Apprenticeship Program (NABDAP), learning side-by-side with exemplary biodynamic mentor farmers across the continent. We have celebrated the graduation of 37 new biodynamic farmers, and 12 more are on track to graduate this year. Just as each farm individuality needs to grow and evolve over time, so does our work to train the next generation of farmers.
Building on the strengths and accomplishments of NABDAP, we are delighted to introduce two new intensive one-year programs that will provide more flexibility, as well as a solid and broad foundation in all of the essentials of biodynamic farming for everyone who participates. Individuals will have the option to participate in just the first year, or both.
For both programs, we are inviting established farmers interested in learning more about biodynamics to participate as well continuing to offer apprenticeship opportunities on exemplary mentor farms.
The Biodynamic Farmer Foundation Year offers aspiring biodynamic farmers the opportunity to build a solid foundation in the principles and practices of biodynamic agriculture. Individual support from an experienced mentor farmer and a cohesive, integrated, and interactive learning curriculum bring biodynamics to life.
The Biodynamic Farmer Development Year, which will begin in 2019, will develop and deepen the skills needed for biodynamic farm management for those who graduate from the foundation year. This program will allow for more scope and specialization in specific farm management and production areas.
Applications for the Biodynamic Farmer Foundation Year will open at the end of November. Contact Anthony at anthony@biodynamics.com (link sends e-mail) or by phone at 262.649.9212 x14 with any questions or to be notified when applications open.
The NABDAP pages will remain in place for those interested in seeing the strong foundations we are building our new programs on. The graduate profiles are especially inspiring!  You can find all the details on our new Farmer Training programs at our new Biodynamic Farmer Training page.
These are Mentor Farms from NABDAP, which is retired. We will have mentor farm pages up for our Biodynamic Farmer Foundation Year very soon!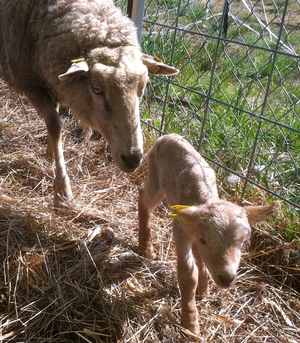 Broad River Pastures is a pasture-based, educational farm where we learn, apply our skills, and teach others about eco-farming, preserving heritage breeds, the importance of diversity, biodynamic methods, permaculture design, and nutrient-dense food. We value future generations and make decisions to improve our small plot of land for those who will follow us. 
We raise and breed heritage American rare breeds of livestock to promote their unique features, add diversity to our diet, and to preserve them for future generations. We avoid tillage to save biodiversity and life in the soil and reduce the need for inputs. Our livestock, pasture, and gardens all receive minerals as needed to promote health in plants, animals, and humans. We landscape around our farm house with native perennial trees, shrubs, and plants as well as annual plants and herbs that provide ecosystems that support native wildlife. We have a wildlife pond to attract frogs, turtles, and insects and store excess water. A rainwater collection system from our barn roof feeds an 1100 gallon tank that waters a perennial garden. The overflow fills our duck pond and overflow from that feeds a natural bog pond. We work with interns and students from the University of Georgia School of Environment and Design in a mutually helpful way. 
Our vibrant intern program allows us to plan and implement a variety of projects. We encourage each intern to develop and implement an area of interest to apply on the farm and leave to teach future interns. 
Our farm was established in 2010, at which time we had no prior farming experience.  Biodynamic practices help us strongly in focusing on nutrient dense food and pastured animals to develop an ecologically sound permaculture farm. We focus on building healthy pasture and garden soils with the help of manure-based compost, minerals, and green manures/cover crops and rotational grazing as part of our pasture management. We have a diversity of manures at our disposal, including rabbit, duck, chicken, pig, and sheep. We utilize Stella Natura to guide our gardening, biodynamic preparations for composting and field spray for pastures, and strive to increase life force and vitality in all areas of the farm. 
Diversity of produce and livestock: Annual and perennial fruits and vegetables, herbs, cover crops, and forage. Heritage breeds of sheep,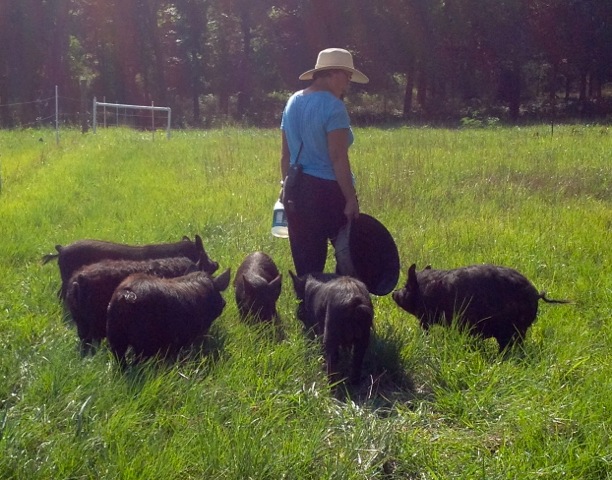 pigs, meat rabbits, ducks and chickens for egg production, working farm dogs.
Skills that can be learned: See Broad River Pastures Skills Checklists (pdf)
Apprenticeship details: Our interns receive a very educational program that they implement on the farm in a way that helps us develop more quickly. We train them by modeling, verbally directing, and then turning loose for independent work as appropriate. They are involved in all areas of the farm including planting, weeding, harvesting, food preparation, food preservation, short a long range planning, rotational grazing, feeding livestock, husbandry, maintenance, building housing, repair, plumbing, and more. We provide opportunities for farm visits, local conferences, workshops, and applied projects. We maintain an extensive library with many agricultural books including those on biodynamics, the soil food web, composting, permaculture, and eco-farming. The NABDAP Skills Checklist is a very helpful tool in guiding interns on what they will learn and the progress they are making during their stay. 
We maintain a nice, fully furnished, private housing unit with linens and cooking supplies, queen sized bed, private kitchen, shower, and bedroom. We share a family meal once a week during our planning meeting. At that time we review the week prior and plan out the week to come. We take time to reflect upon and celebrate our accomplishments. Compensation is modest, since we are a start up farm, but we are rich in educational opportunities, nutritious local meals, a rich, diverse farm experience, community involvement, and comfortable accommodations. The work schedule is 5.5 days on and 1.5 days off with additional days off for educational conferences, workshops, and classes. Openings are currently available from May to September, 2015 and for October, 2015 to May, 2016.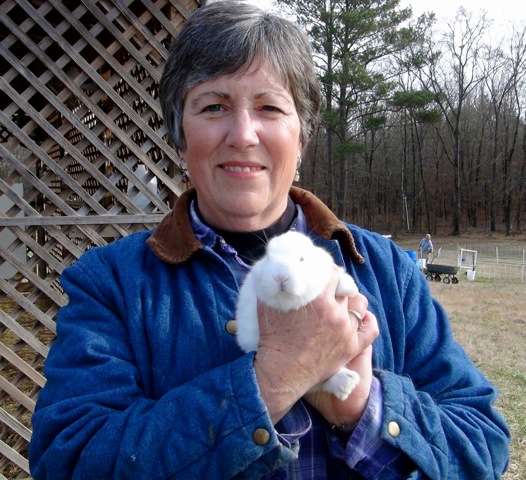 Mentor farmers: Cathy R. Payne and Jon Payne, Sr.
2973 River Road, Elberton, GA 30635
706-283-7946