North American Biodynamic Apprenticeship Program > Participating Mentor Farms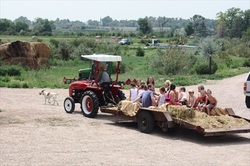 Cresset Farm is a small family farm in beautiful Colorado. The farm is located in Fort Collins (just 5 miles east of the Budweiser plant) with impressive mountain views and a fantastic landscape. Jessika and Oliver Brandt-Feldenkirchen began leasing the land in 2011 and moved onsite with their three kids in January 2012.With very supportive landlords, a long term lease and option to buy they are in the process of establishing a diversified family farm. The farm been out of production for about 15 years and some challenges are still to overcome but overall the farm is a great place to be. 
Treating the whole farm as a living organism is extremely important to us. The main business is a vegetable CSA (serving 100 members this summer and winter season). New this year is farm-based education with several camps, classes, and workshops for children and adults. Several Waldorf School classes visit each year to spend some days onsite, and a close relationship with the new local Waldorf inspired Charter school was started in early 2013.
Size of farm: 115 acres
Diversity of produce and livestock: 125 different varieties of vegetables, in 3-5 acres vegetables productions, some grains (rye and millet), 6 varieties of garlic, herbs, flowers, pigs, chicken, horses, goats. Cows and sheep in planning for 2013.
Skills that can be learned: See Cresset Farm's Skills Checklists
Apprenticeship Details: The apprenticeship is best viewed as a work-training program, rather than an exclusively "educational" experience. Apprentices will mostly learn through working on projects and through taking on responsibilities for managing aspects of the farm. The fact that we are a small and young operation means that apprentices remain very close to the decision-making process, and will be assigned independent work assignments as they demonstrate ability to complete them well. 
Apprentices will find that they will gain the most if they show initiative, attention to detail, a good work ethic and the ability to know when to ask for help. Strong communications skills are also an important part of prospering within a small hardworking group such as we have at the farm. Being small also means that we all end up doing almost everything; so apprentices will be exposed to a diverse array of activities. 
We have two apprenticeship seasons: Spring/Summer (March 1st-October 31st) and Winter (October 1st-March 31st). The first month of the apprenticeship is a trial period. The work week consists of approximately 60 hours, with ~10-hour days on weekdays, ~ 6 hours on Saturday plus weekend chore duty. Work outside of normal work hours will be required for some projects. Apprentices are compensated between $400-800/month depending on 1st/2nd year and experience. Rooms in the farmhouse with community kitchen and bathroom during the time of the apprenticeship are available on a first come basis.
Mentor Farmers: Jessika and Oliver Brandt-Feldenkirchen
Address: 5621 E CR 52, Fort Collins, CO 80524
Phone: (970) 402-1709 Email: farmers at cressetfarm.com
Website: www.cressetfarm.com