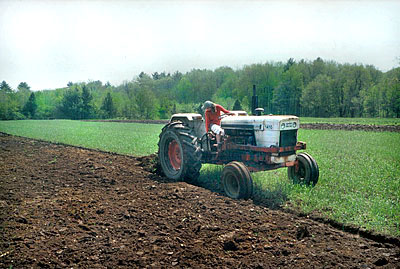 How do I enroll in the program as an apprentice?
Please see becoming an apprentice.
Is there a deadline to apply?
Applications are accepted on a rolling basis. Please keep in mind that you will need to find an apprenticeship position with one of our mentor farms before enrolling in NABDAP. Since most apprenticeship positions with our mentor farms begin in the spring, the best time to begin inquiring with farms is usually between late fall and mid winter. Please see our list of participating mentor farms for each farm's start date and application process.
Can I apply for the program if I am not a U.S. or Canadian citizen?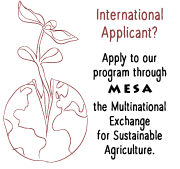 If your country of citizenship is not the US or Canada, you will need a visa to participate in NABDAP. We are unable to sponsor individual apprentices for visas. However, we are a program affiliate in the Multinational Exchange for Sustainable Agriculture (MESA)'s Affiliate Internship Exchange Program, and you may be able to secure a US visa with MESA's help through their program. MESA also offers a number of other support services for international agriculture trainees. To enroll in NABDAP this way, you will need to start by applying to participate in the Affiliate Internship Exchange Program and listing NABDAP as your preferred placement. After you are accepted to the program by MESA, then we can match you with a NABDAP mentor farm.
How will I be able to cover my expenses and health care during the program? 
Please visit our program finances page for an explanation of the costs of the program. Most of our participating mentor farms provide housing and food for their apprentices, and many also offer a stipend or hourly wage. These funds are usually sufficient to cover basic expenses such as food that the farm doesn't provide, vehicle insurance, and a high-deductible health plan. However, if you have significant additional expenses you many need to rely on savings or other outside support for those costs.
Is there any financial assistance available to help with tuition? 
If tuition for the NABDAP classroom study course presents an economic hardship, apprentices may apply for financial assistance through the Biodynamic Scholarship Fund.
I already have experience on farms. Can I count my prior experience towards this certification? 
Yes, you may apply to put your previous on-farm experiences and coursework towards your certification. To request an application for partial credit or retroactive certification, please contact us.
I would like to enroll in the program, but there aren't any participating mentor farms in my region. 
We are continuing to grow the program and incorporate more mentor farms. If you would like to apprentice in a region where there are currently no participating mentor farms, please contact us and we can help you to find possible mentor farms in your region.  
---