North American Biodynamic Apprenticeship Program > Participating Mentor Farms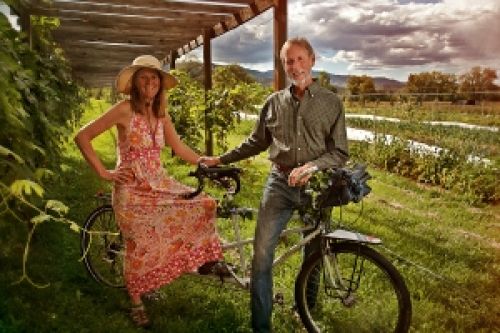 Happy Heart Farm is an urban farm on the west side of Fort Collins, CO and the hub of a regional agricultural collaborative. We are a historic farm -- our house was built in 1906. We have been farming at our current farm and working with apprentices for 30 years. We were the first CSA farm in Colorado. We have an old growth forest on our property (willow and cottonwood trees). We have been using biodynamic practices for 35 years, and we emphasize growing community as well as vegetables. 
Size of farm: 10 acres
Diversity of produce and livestock: We grow mostly vegetables, but by our collaboration with our fellow growers in the area we have introduced another level to the CSA model: the "regional" urban farm. We are in collaboration with other growers offering raw milk, eggs, meat, fruit, mushrooms and more.
Skills that can be learned: See Happy Heart Farm's Skills Checklists (PDF)
Apprenticeship Details: Our apprentices are here part-time, Mondays, Tuesdays and Thursdays. They help with planting, weeding, watering, harvesting, seed saving, composting, and serving our CSA members. We require their presence, respect, and flexibility within the context of our farm community. Problem solving, group leadership and participation are stressed and stretched. Inner work is noted and reflected. Our diverse and golden support community provides vast resources into business, artistic expression, health care, and all levels of higher education and evolution. Apprentices find housing in town, and are compensated based on experience.
Mentor Farmer: Dennis Stenson
Address: 2820 W Elizabeth St., Fort Collins, CO 80521
Phone: (970) 482-3448
Email: info at happyheartfarmcsa dot com
Website: www.happyheartfarmcsa.com