North American Biodynamic Apprenticeship Program > Participating Mentor Farms
Since 2009, over 100 aspiring biodynamic farmers have participated in our North American Biodynamic Apprenticeship Program (NABDAP), learning side-by-side with exemplary biodynamic mentor farmers across the continent. We have celebrated the graduation of 37 new biodynamic farmers, and 12 more are on track to graduate this year. Just as each farm individuality needs to grow and evolve over time, so does our work to train the next generation of farmers.
Building on the strengths and accomplishments of NABDAP, we are delighted to introduce two new intensive one-year programs that will provide more flexibility, as well as a solid and broad foundation in all of the essentials of biodynamic farming for everyone who participates. Individuals will have the option to participate in just the first year, or both.
For both programs, we are inviting established farmers interested in learning more about biodynamics to participate as well continuing to offer apprenticeship opportunities on exemplary mentor farms.
The Biodynamic Farmer Foundation Year offers aspiring biodynamic farmers the opportunity to build a solid foundation in the principles and practices of biodynamic agriculture. Individual support from an experienced mentor farmer and a cohesive, integrated, and interactive learning curriculum bring biodynamics to life.
The Biodynamic Farmer Development Year, which will begin in 2019, will develop and deepen the skills needed for biodynamic farm management for those who graduate from the foundation year. This program will allow for more scope and specialization in specific farm management and production areas.
Applications for the Biodynamic Farmer Foundation Year will open at the end of November. Contact Anthony at anthony@biodynamics.com (link sends e-mail) or by phone at 262.649.9212 x14 with any questions or to be notified when applications open.
The NABDAP pages will remain in place for those interested in seeing the strong foundations we are building our new programs on. The graduate profiles are especially inspiring!  You can find all the details on our new Farmer Training programs at our new Biodynamic Farmer Training page.
These are Mentor Farms from NABDAP, which is retired. We will have mentor farm pages up for our Biodynamic Farmer Foundation Year very soon!
Hoch Orchard and Gardens is a small family farm specializing in organic fruit production (transitional to biodynamic). We have about forty-five acres in orchards, nurseries, berry plantings, vineyards, and gardens. Our goal is to produce good quality food with minimal chemical inputs. We use intensive Integrated Pest Management in our orchards. All the fruit and vegetables on our farm are produced in an organic system.
We start the majority of our fruit trees in nurseries on the farm. We have around an acre of nurseries. The root stocks are grafted in the workshop during the winter months and planted in the nurseries in April. We also summer bud-graft stock in July and August. In addition to fruit production, we raise some poultry. This is on a very small scale. We are experimenting with old breeds of chickens that can be raised outdoors and help with pest control. We also have been using geese and ducks to control weeds in the berry beds and nurseries. Poultry production is a low priority and volume varies from 0 to 100s year to year.
We have a diversified marketing plan on our farm. Our apples are cleaned and packed in our own packing facility on the farm. We have our own label and sell fruit directly to health food stores and cooperative grocery stores in the Minneapolis/St.Paul area. We promote our low-input production methods and sell to customers who want locally grown food. We have refrigerated rooms in our packing facility so we can store and sell our apples well into the winter months. A small portion of our crop is also sold at the Farmer's Markets in La Crosse, Wisconsin between June and October.
We raise two acres of wine grapes. Some of the grape crop is sold to local wine makers and some we make into grape juice and jelly. We have wine making equipment on the farm and make several batches of wine for our own use. In 2007, we added a cider pressing facility and commercial kitchen to our business. This facility is attached to our apple packing building. We currently make fresh apple cider, jams, jellies, and sauces. More value-added products may be made in the future. Most interns will be involved in some processing. Interns with an interest in food processing will be given more opportunity work in the kitchen. Summer fruit is cleaned and frozen. Most processing is done in late fall and winter. Cider production begins in August and continues through January.
Size of farm: 45 acres of production
Diversity of produce and livestock: We are primarily a diversified fruit production farm with apples, plums, apricots, cherries, strawberries, raspberries, blackberries, blueberries, and grapes. We also have a large farm veggie garden, poultry, hogs and sheep.
Skills that can be learned: See Hoch Orchards Skills Checklists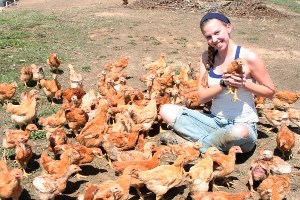 Apprenticeship details: We offer a variety of internship possibilities on the farm. We have a full-season internship spanning the full range of activities on the farm, as well as a short-term internship focused on harvesting, packaging, processing and sales. In addition, we offer two targeted internships with an emphasis in farm business management or integrated pest management. We also have recently added the animal production intern position. See our website for qualifications and position descriptions.
Harry and Jackie Hoch are the the owners/co-managers of the farm. We have two daughters. Angi is currently work as a cook at Red Stag Supper Club in Minneapolis. Missy is attending college studying Art.. Harry's mother, Jackie Senior, lives in La Crosse and visits the farm in the summer.
Trainees live in houses on the farm. The houses have several bedrooms, bathroom, full kitchens, and washing machines for clothing. The houses are furnished and have bed cloths and linens.
Trainees eat lunch and supper with the host family but are expected to make their own breakfast before the workday begins. Breakfast food is supplied, but the trainee is expected to prepare it on his own. Cooking is done by the hosts and by the trainees. We use a lot of food raised on the farm and try to get other local food when possible. We can adapt to food restrictions, but if you choose not to eat beef and pork, poultry will be on your main meat source. Full vegetarians may have to help with the menu, and vegans may have to work out a different agreement for food.
Mentor farmers: Harry and Jackie Hoch
Address: 32553 Forster Rd, LaCrescent, MN 55947
Phone: 507-643-6329    Email: Jackie@hochorchard.com
Website: www.hochorchard.com