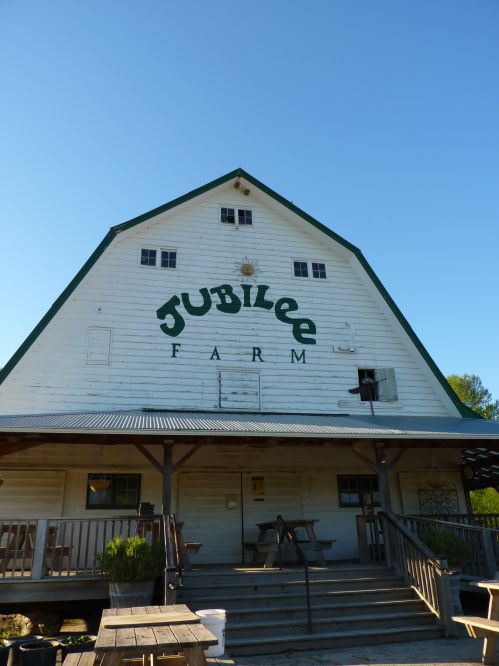 Jubilee Farm was the first CSA in our valley, and the second in our state. We did that because we are people oriented. Even before we learned about biodynamics we were highly involved as a "community" farm. Most of our members come to the farm to pick up their produce rather than have it delivered. We offer a lot of u-pick opportunities, so we have members all over the farm all the time. We offer a "farm school" for kids on pick-up days where we teach children about farm animals and crops -- usually harvesting at least one vegetable each week (and eating it right out of the field). About eight years ago we started a work share program for people who want to trade four hours of labor each week for a CSA share. It has been amazingly successful, and has now grown to where we now have to cut off applicants when we get to 80. The influx of interest, excitement and energy of these members is such a boost to the life of the farm.
We are a production farm that is transitioning to biodynamics mid-stream. We've done well on building a herd and between intensive composting and consistent cover-cropping, at finding a balance point between these sources of fertility and the soil nutrient requirements for the 400 CSA shares we grow each year. We make BD 500 (the horn manure preparation) each year as well as some of the other preparations at various times. In our desire to eliminate off-farm inputs we last year hired a seed saver. She does more than just seed-saving (no room for specialists on this farm!), but we are very pleased with the seed we were able to save this first year, and we're excited about taking greater strides in saving seed next season.
We are very involved with our community farming organization, Sno-Valley Tilth, with Erick serving on the board, Wendy active in organizing events and fundraisers, and Erick also leading the group's mentoring program, through which we help farmers who have finished an apprenticeship find leaseable land and designate a neighboring, successful farmer to help them as they start on their own operation.
Size of farm: 208 acres (approximately 50 farmed, which includes grazed acreage)
Diversity of produce and livestock: We do a CSA and grow virtually everything we can grow here in our climate, and we keep trying on a few that we can't. In addition to produce we have fruit trees (apple and plum) and berries (strawberries, raspberries). We have spent most of the last seven years building our herd, and trying to find the balance between the numbers of cattle we need to provide the fertility for our crops. We presently have 95 animals in the herd: 36 cows with calves, a dozen bred heifers, and eleven 2 year old steers. We keep some chickens and some pigs.
Skills that can be learned: See Jubilee Farm's Skills Checklists (pdf).
Apprenticeship details: Our apprentices work with us and our crew (we have 2 to 4 employees in addition to Wendy and Erick). Our CSA is very successful, and many people have said we set the standard for quality production in our area. We believe that any young person who is here for even one year will learn every phase of the annual cycle, especially on the crops. The animals would take longer, partly because we are still in a learning mode with them. The apprentice work schedule is 4.5 days per week (8 hour days). The extra half day is for reading. We have developed a list of 24 books we think are important; at least 3 of them (An Agricultural Testament by Sir Albert Howard; The Unsettling of America: Culture and Agriculture by Wendell Berry; and Farmers of Forty Centuries: Organic Farming in China, Korea, and Japan by F.H. King) are required reading. We involve apprentices in all phases of farming. They need to learn to operate equipment, seed, transplant, irrigate, harvest, cover-crop, make and spread compost, mow, care for cows, make fences (we do daily cattle rotations). And they need to learn how to work with members of our community. Apprentices need to understand that they are in school, learning valuable skills that will enable them to earn a living. We don't pay interns, but we do offer a modest stipend. Housing will be in the form of a trailer that has cooking facilities. Food is available from the farm. Showers and laundry facilities are available at regular, daily hours in the home of one of our employees. The work schedule is very clear.
Mentor Farmers: Erick and Wendy Haakenson
Address: 10 West Snoqualmie River Road SE, Carnation WA 98104
Phone: 415-829-1865 (Erick), 206-919-6215 (Wendy)
Email: jubileefarm@hotmail.com
Website: www.jubileefarm.org