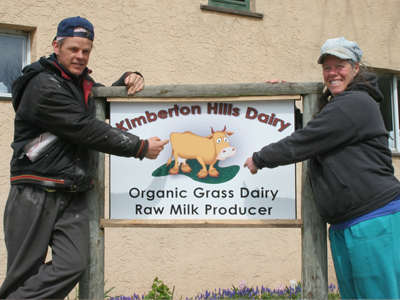 Kimberton Hills Dairy is a certified organic, pasture based dairy using biodynamic principles and methods, embedded in an intentional community with people of differing abilities, which includes other agricultural workshops, such as the CSA garden (which also has NABDAP apprentices), the orchard and the estate. We direct market most of our products in the local community. Our community has a very lively, participatory cultural life.
Size of farm: 210 acres managed by the dairy. The dairy is part of Camphill Village Kimberton Hills, a 432 acre agricultural and crafts community which focuses on life-sharing and specifically includes adults with disabilities.
Diversity of produce and livestock: The dairy manages a pastured milking herd and young stock -- in total around 90 cattle. We also have a flock of laying hen. We grow forage and bedding crops for the animals. Camphill Village also includes a 12 acre CSA garden, a separate herb garden, estate with managed wood lots, bees and orchard.
Skills that can be learned: See Kimberton Hills Dairy's Skills Checklists
Apprenticeship details: Apprentices learn to perform many key tasks on our dairy, beginning with milking and animal care, maintenance of fences, pastures, buildings and equipment, bottling and sales of milk and eggs and other products. Gradually, they learn to do tractor work to manage field crops and learn to manage other aspects of a dairy, such as acquiring supplies, dealing with special animal health needs, finances, etc.
Housing: Apprentices are housed in village housing, either the barn apartment with meals in Farm House, or in another nearby house.
Compensation: Apprentices receive room and board, free access to village vehicles, and a monthly stipend of $175 for the first year. They will receive health coverage after 3 months. Apprentices are expected to help up to or over 40 hours per week including at least 3 early morning milkings. They have one full day per week off, not necessarily on the weekend, and 21 days of vacation per year. Apprenticeships run from April 1 - March 31 most years
Mentor Farmer: Tommy Trzcinski
Address: PO Box 1045 Kimberton, PA 19442
Phone: 610-935-3963    Email: information@camphillkimberton.org
Website: www.camphillkimberton.org