Since 2009, over 100 aspiring biodynamic farmers have participated in our North American Biodynamic Apprenticeship Program (NABDAP), learning side-by-side with exemplary biodynamic mentor farmers across the continent. We have celebrated the graduation of 37 new biodynamic farmers, and 12 more are on track to graduate this year. Just as each farm individuality needs to grow and evolve over time, so does our work to train the next generation of farmers.
Building on the strengths and accomplishments of NABDAP, we are delighted to introduce two new intensive one-year programs that will provide more flexibility, as well as a solid and broad foundation in all of the essentials of biodynamic farming for everyone who participates. Individuals will have the option to participate in just the first year, or both.
For both programs, we are inviting established farmers interested in learning more about biodynamics to participate as well continuing to offer apprenticeship opportunities on exemplary mentor farms.
The Biodynamic Farmer Foundation Year offers aspiring biodynamic farmers the opportunity to build a solid foundation in the principles and practices of biodynamic agriculture. Individual support from an experienced mentor farmer and a cohesive, integrated, and interactive learning curriculum bring biodynamics to life.
The Biodynamic Farmer Development Year, which will begin in 2019, will develop and deepen the skills needed for biodynamic farm management for those who graduate from the foundation year. This program will allow for more scope and specialization in specific farm management and production areas.
Applications for the Biodynamic Farmer Foundation Year will open at the end of November. Contact Anthony at anthony@biodynamics.com (link sends e-mail) or by phone at 262.649.9212 x14 with any questions or to be notified when applications open.
The NABDAP pages will remain in place for those interested in seeing the strong foundations we are building our new programs on. The graduate profiles are especially inspiring!  You can find all the details on our new Farmer Training programs at our new Biodynamic Farmer Training page.
These are Mentor Farms from NABDAP, which is retired. We will have mentor farm pages up for our Biodynamic Farmer Foundation Year very soon!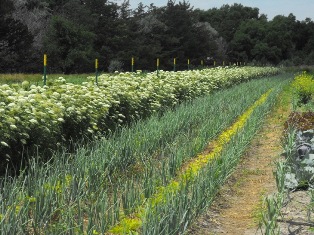 At Meadowlark Hearth, our main focus is the development of biodynamic seed in the context of a whole farm organism. We grow, select, process and distribute a wide variety of seeds grown biodynamically/organically. We also strive for social and ecological outreach in a conservative rural agribusiness based region. We have a vegetable CSA which began in 2011 and have been going to the local farmer's markets since 2010. We are in the first years of restoration and development of this prairie farm that has suffered from forty years of chemical based extraction agriculture. All this together provides a unique learning opportunity which we share with those working on the farm, including field history records showing how the farm has evolved from conventional to biodynamic/organic production.
Beth and Nathan each have decades of experience practicing biodynamics -- since 1979 and 1983 respectively. We use the biodynamic preparations and intend to increase their use. We take a keen interest in the landscape and its native plants and animals, watching how they interact with the farming practices. Nathan is a certified Master Naturalist. We seek to follow a Goethian approach/outlook.  Singing is part of our everyday life. Beth is a trained musician who likes to help people feel comfortable with singing and learning music and the ways it applies to agriculture. We look for ways to connect with the wider community, economically and culturally.  We have the goal of providing meaningful work on our farm so that people from all walks of life can participate in it.
We pay attention to the cycles and seasons in relation to the stars and planets. Our cows have horns. We are in the process of establishing a 9 cow dairy, one hundred percent pasture fed.  Cows are ayrshire, milking shorthorn and jersey crosses.  In 2013, Ursula and Lawrence, with 30 years of experience, are available for the first part of the 2013 season to train interested apprentices in the art of dairying.  Ursula is also a master baker and specialist in fermenting vegetables.  This is a unique learning opportunity for dedicated interns to partake specifically in 2013. 
Size of farm: 492 acres
Diversity of produce and livestock: Seed crops, vegetables, hay, pigs, and grass fed,intensive grazing managed dairy and beef, farm-hatched guineas
Skills that can be learned: See the Meadowlark Hearth's Skills Checklists (pdf).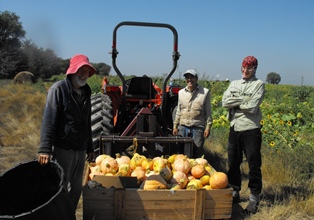 Apprenticeship details: Beyond the skills listed on the checklists, our farm offers the possibility to witness and participate in the evolution of a farm organism and infrastructure: pasture restoration, tree planting, building renovation. We prefer a two year commitment, with the first year/season participating in a wide variety of skills and activities and the second year/season taking on focus and responsibility in a specific area. We are looking for apprentices who have at least one year of agriculture/gardening experience, have acquaintance with and interest in biodynamics, as well as an interest to commit to seed work and biodiversity. We maintain our farm as a drug and alcohol free entity. We value learning about agriculture and life and Nature highly, intending that all students be present fully. We request two references and an on-farm visit from all prospective apprentices.
Housing: For single apprentices, or for couples without children, we presently provide a room in our house. If a family is interested, we would have the possibility to offer a small modest house, but would need to ask that the family would cover utilities.
Compensation: We offer a formal class each week in related subjects of biodynamic farming and/or a field trip, as well as a unique, extensive on the job training in seed growing and raw milk, pasture fed dairying. We provide room and board. Apprentices need to make their own arrangements for health needs and insurance.
Work schedule: In general, one day off (with mutual flexibility and respect for more when arranged through conversation with farmers or when farmers need time).
Schedule on the farm: Six days on, including at least one day for class/field trips. 9 hours work each day with break for breakfast, lunch, supper, and midday heat in summer, then working in evening to complete 9 hours. Starting time varies with season. Apprenticeship generally runs April 1st to November 15th.
Mentor Farmers: Beth & Nathan Corymb
Address: 120024 Everett Dr, Scottsbluff, NE 69361
Phone: 308-632-3399     Email: bcorymb@gmail.com
Website: www.meadowlarkhearth.org