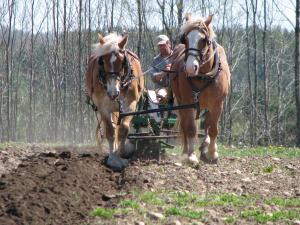 Advanced Course, Part I - The Individuality of the Farm:
This is an 8 month course, meeting one full Sunday each month starting in September and ending in April.
The central image in Biodynamics is that a farm is healthiest if it can be organized as an independent Individuality. This means having the right kinds and number of animals to provide fertility to the land; having different environments (wetlands, meadows, forests, cultivated soil, flowering trees) to allow the farm to express different forms of life; balancing the crops you grow, with the soil, the climate, and the wildlife. We will explore how this can be a meaningful conversation with the land.
This is not a "how to farm Biodynamically" course, but rather a course designed to deepen and enhance the regular work you are already doing on your farm and in your garden. It is recommended that you have some practical experience in farming or gardening before taking this course.
Required texts: Rudolf Steiner's Agriculture lectures, and his book Theosophy.
Advanced course, Part II - Occult Science for Farmers:
This is a 5 month course, meeting one full Sunday a month from November to March. Part I is a prerequisite.
When Rudolf Steiner gave his lectures on Agriculture in 1924, he suggested it would be helpful to know his two works: Theosophy and Occult Science – an Outline. Getting to know these works gives a firm foundation in Steiner's scientific research, and helps clarify what initially seem like strange concepts in Biodynamics.
We will focus on the chapter covering the evolution of the solar system, the kingdoms of nature and humanity and explore how this relates to the elemental nature spirits that work behind the scenes of our every day work on the land.
Required Text: Rudolf Steiner's Occult Science: an Outline (also translated as Outline of Esoteric Science)
For more information visit www.saugeenrivercsa.com/education or contact Cory Eichman at saugeenrivercsa@bmts.com or 519-369-3567