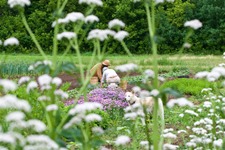 Philadelphia Community Farm is a CSA farm and anthroposophically based intentional community, located near Osceola, Wisconsin and adjacent to a National Park--the St. Croix National Scenic Riverway. Our non-profit's mission: restoring health and vitality to people, animals, plants and the earth.  "Philadelphia" refers to the spirit of 'brotherly love' by which we seek to live and work. Our resident community is multi-generational and multi-ability and ranges anywhere from 7-15 people, depending on the season.
A major task of the community is caring for a small farm and running a 100+ member CSA, under the project name Buttermilk Falls CSA.".  Our "community" has always included a wider circle surrounding the farm.  Locally, this means 3 additional CSA farms, all hosting interns each year, within the 6 mile Standing Cedars Farm and River Greenway that we helped to establish along the river. 1,550+ acres have been designated as a State Natural Area and are being restored to prairie and oak savannah. Our farm is 108 acres surrounded by an additional 300+ acres owned or managed by Standing Cedars. Osceola is a small town that has a farmers market and progressive goals for energy efficiency for its public facilities and schools.  We are also connected with many people from the Twin Cities, Minneapolis and St. Paul, MN.  We have regularly scheduled volunteer work days throughout the summer and celebrate St. John's and Michaelmas with our members and wider circle of friends.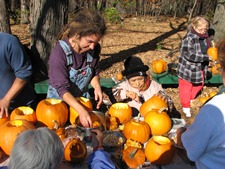 Buttermilk Falls Farm serves surrounding communities not only as a source for fresh, biodynamically produced food, but also as an outdoor classroom, a rural retreat space, and a great place to come to reconnect with Nature - both one's own Nature, as well as the surrounding beauty and diversity in this river valley region. A farm visit that explores how food is grown and how animals are raised is an ideal way for all of us to understand and connect with where our food comes from. By learning how a farm works, we get tp experience the natural world in a new way and make a vital connection between the social, ecological, and economic importance of agriculture and community in our lives. We have developed and maintained relationships with local Waldorf, Montessori and chartered schools to create opportunities for students to have experiences in our gardens and barnyard, eating and cooking with fresh seasonal vegetables and hiking in the nearby natural areas. We are also host a number of other like-minded organizations like the Voyageur Outward Bound School and the Nawayee Center School throughout the year, for both educational programming and retreats.
Apprenticeship details:  We are seeking 2-3 apprentice farmers for the 2016 CSA season.  As an apprentice, you will have the opportunity to learn the ins and outs of CSA farming on a beautiful member-supported, therapeutic community farm. Apprentice farmers will live onsite and work full-time alongside Buttermilk's head farmer, from early Spring 2016 (April) until completion of the harvest season in the Fall (Nov). The program is tailored to individuals who are not daunted by long hours and hard work and are self-motivated by being part of the inner workings of this special farm project. This opportunity is especially useful for folks looking to own/operate their own small-scale or family farm someday, or those hoping to supplement their experience-based farming skills at a time when the future of food seems so uncertain.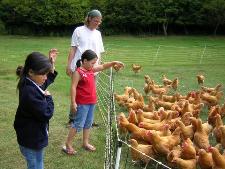 Mentor Farmer: Carter Beck
Administrator: Christina Beck
Address: Box 668, Osceola, WI 54020
Phone: 715-294-4048    E-mail: csa@buttermilkcsa.com
Website: www.buttermilkcsa.com