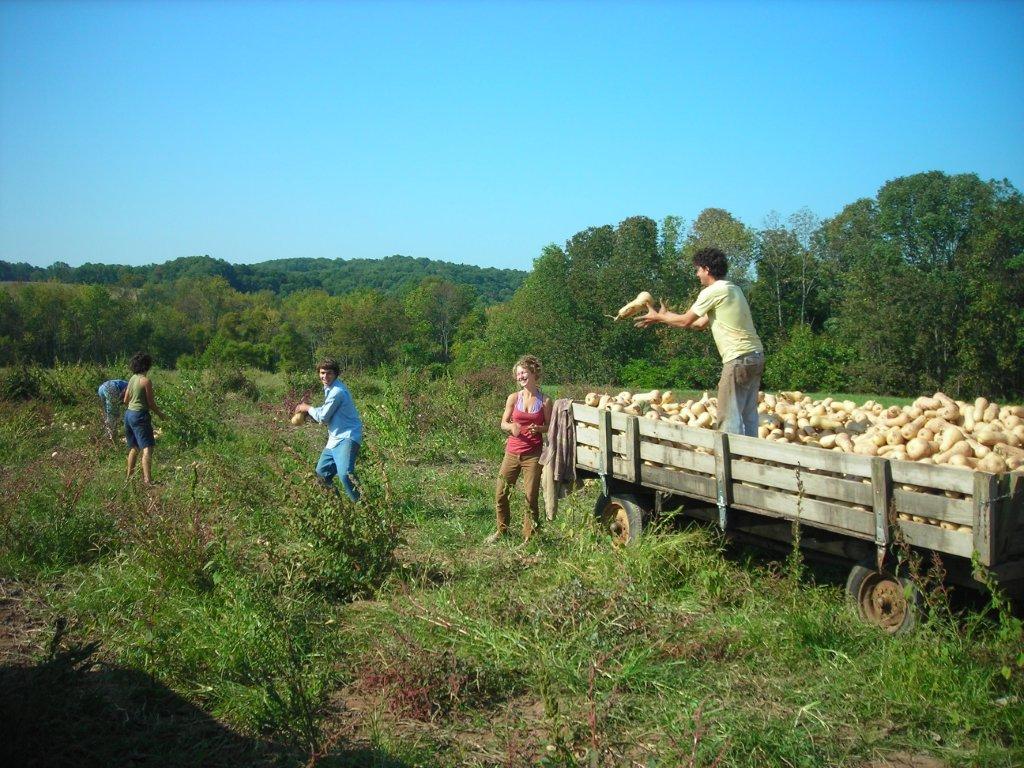 At Sankanac CSA we believe that the health of land and people are deeply interdependent. We are deeply committed to the use of biodynamic methods, which allows us to strengthen our fragile ecosystem as well as provide food of the highest quality to our local community. Activities in the CSA include plant propagation, greenhouse management, pruning, crop cultivation, harvesting, tractor and equipment operation and maintenance, irrigation, livestock management, composting, making and using the biodynamic preparations. Sankanac CSA is part of Camphill Village Kimberton Hills, a 432 acre agricultural and crafts community which focuses on life-sharing and specifically includes adults with disabilities. Our head gardeners oversee this enterprise with a crew of over 10 gardeners (including individuals with special needs, apprentices, service volunteers, and interns).
Size of farm: The garden is 15 acres within the 432 acre Camphill Village.
Diversity of produce and livestock: We grow a diverse seasonal mix of 35 species of vegetables, fruits, herbs, and flowers. The CSA operates year-round. In addition to our CSA, Camphill Village Kimberton Hills also tends a grass fed dairy farm, an orchard, a small apiary, woodlands, a wood fired bakery, coffee shop, craft workshops and 17 life-sharing households.
Skills that can be learned: See Sankanac CSA's Skills Checklists
Apprenticeship details: Positions begin and end in early spring. The CSA offers a 1 or 2 year apprenticeship, and 1-3 month internships, in biodynamic agriculture. Apprentices get fully integrated into Camphill Village and receive health insurance after three months, access to cars, room and board plus a monthly stipend.
A strong theoretical component to the training will be emphasized, and include regional farm tours and monthly seminars through SAITA. Weekly study groups on Biodynamic Agriculture and Anthroposophy during the Winter months, as well as weekly participation in the Kimberton Hills orientation to Camphill and community life are available to one and two year volunteers. We live and work with people with developmental disabilities- the CSA is embedded within the eco-village of Kimberton Hills.
Mentor Farmers: Todd Newlin and Mary Wildfeuer
Address: 1852 French Creek Road Phoenixville, PA 19460
Phone: 610-935-3963  Email: information@camphillkimberton.org
Website: www.camphillkimberton.org or www.sankanacCSA.com