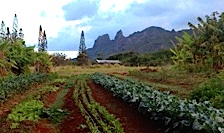 Spirit of the Earth Farm (Uhane Aina) is a 16.5 Acre bio- diverse farm managed according to the principles of Biodynamic Agriculture, on the island of Kauai in Hawaii. The farm includes a tropical orchard and several vegetable gardens, as well as livestock and chickens. We are committed to providing quality food to the local community, restoring and maintaining the land sustainably, and educating career farmers. We sell to local retailers and restaurants, at farmer's markets, and to CSA customers. The farm is owned and operated by Marie Mauger.
Size of farm: 16 acres total, including living spaces, pasture, and orchard
Diversity of Livestock and Produce: We grow a variety of vegetables and have an extremely diverse. The pasture area is home to a cow (soon to be two!). We also have two small chicken flocks and one beehive.
Skills that can be learned: See Spirit of the Earth Farm checklists.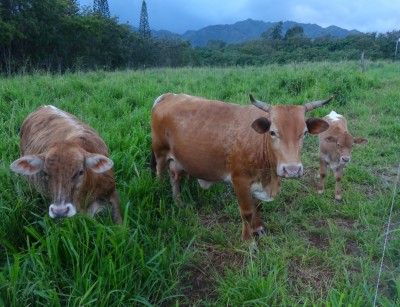 Apprenticeship Details: The farm welcomes apprentices for minimum 6-month commitments. Apprentices work 40 hours per week. Compensation includes a campsite, produce from the garden and $50/week after the first month, $75/week after the second month, and $100 /week after the third month.
Work schedule:Work times are M-F beginning at 8, flexible on weekends. Participation in harvests Monday and Wednesday morning and Friday afternoon, apprentice training sessions Tuesdays and Fridays at 1 pm, and weekly study group Tuesday 4 pm are mandatory. 40 hours total per week. .
Mentor Farmer: Marie Mauger
Address: PO Box 416, Anahola, HI, 96703
Street Address: 6180 Koolau Road, Anahola, HI
Phone: (808) 822-7899
Email: Send an email (link sends email)
Website: www.spiritoftheearthfarm.org