Since 2009, over 100 aspiring biodynamic farmers have participated in our North American Biodynamic Apprenticeship Program (NABDAP), learning side-by-side with exemplary biodynamic mentor farmers across the continent. We have celebrated the graduation of 37 new biodynamic farmers, and 12 more are on track to graduate this year. Just as each farm individuality needs to grow and evolve over time, so does our work to train the next generation of farmers.
Building on the strengths and accomplishments of NABDAP, we are delighted to introduce two new intensive one-year programs that will provide more flexibility, as well as a solid and broad foundation in all of the essentials of biodynamic farming for everyone who participates. Individuals will have the option to participate in just the first year, or both.
For both programs, we are inviting established farmers interested in learning more about biodynamics to participate as well continuing to offer apprenticeship opportunities on exemplary mentor farms.
The Biodynamic Farmer Foundation Year offers aspiring biodynamic farmers the opportunity to build a solid foundation in the principles and practices of biodynamic agriculture. Individual support from an experienced mentor farmer and a cohesive, integrated, and interactive learning curriculum bring biodynamics to life.
The Biodynamic Farmer Development Year, which will begin in 2019, will develop and deepen the skills needed for biodynamic farm management for those who graduate from the foundation year. This program will allow for more scope and specialization in specific farm management and production areas.
Applications for the Biodynamic Farmer Foundation Year will open at the end of November. Contact Anthony at anthony@biodynamics.com (link sends e-mail) or by phone at 262.649.9212 x14 with any questions or to be notified when applications open.
The NABDAP pages will remain in place for those interested in seeing the strong foundations we are building our new programs on. The graduate profiles are especially inspiring!  You can find all the details on our new Farmer Training programs at our new Biodynamic Farmer Training page.
These are Mentor Farms from NABDAP, which is retired. We will have mentor farm pages up for our Biodynamic Farmer Foundation Year very soon!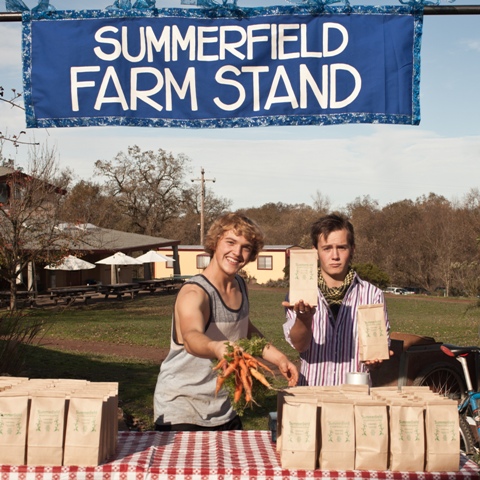 Summerfield Waldorf School and Farm is a small-diversified farm modeled after a family farm that was once common in this area. We are situated close to the Laguna wetlands in an area that was once a large oak savannah. We are currently growing 2 acres of row crops on semi-permanent beds. Our primary tillage is done by tractor and we cultivate using hand tools and an electric tractor. We have been experimenting with different types of no-till systems and different cover crops. Students, pre-k through 12th grade have gardening classes on the farm and help with planting, seeding and harvesting.
Size of farm: 15 acres total: 2-3 acres of row crops, ¼ acre permaculture garden, 6 acres of pasture and 2 acres of student gardens.
Diversity of produce and livestock: 2 jersey cows, small flock of sheep, chickens, ducks and rabbits. Our farm grows a diverse selection of annual vegetables, perennials, apples, peaches, plums and pears.
Farming practices: Summerfield has been certified Biodynamic since 2001 by Demeter. At our farm we make all of our own compost from our animals onsite. We strongly limit imputs to only items that are necessary. We are working toward strengthening our fertility program and increasing our organic matter content of the soil using cover crops mulching. We use the planting calendar for field work to the best degree we can.
Skills that can be learned: See Summerfield Waldorf School and Farm's Skills Checklists (PDF)
Apprenticeship details: Apprentices are engaged in all areas of farm work: greenhouse propagation, planting, harvesting, animal care, milking, tractor safety, machinery repair. Working with and around children is an important part of our farm. Apprentices live onsite in yurts. A common area is shared that consists of a bathroom and kitchen. A stipend of up to $500 is provided. We work 8am to 6pm, and weekend chores are done a rotating schedule.
Mentor farmer: Dana Revallo
655 Willowside Rd, Santa Rosa, CA
(707) 575-1986 ext 144