Call for Research Posters for the 2021 Biodynamic Conference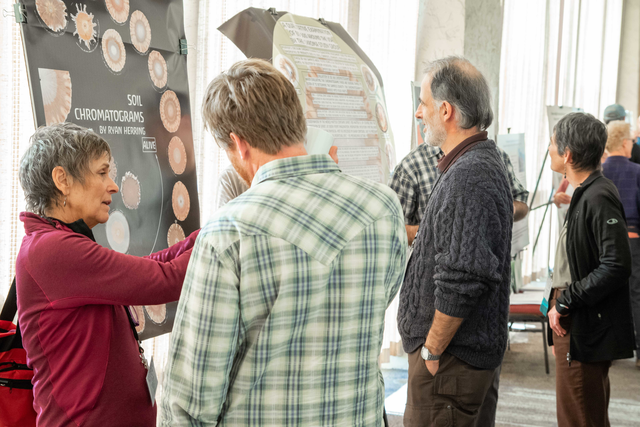 Are you carrying out biodynamic-related research as part of your farming or gardening work or as an academic? Do you have research observations, questions, results, or innovations to share?
This is an open invitation for Research Poster proposals for the 2021 North American Biodynamic Conference. We invite people from all backgrounds – farmers, gardeners, forest caretakers, students, Biodynamic Farmer Foundation Year participants and apprentices, and academic/university researchers – to share their observations and research on any topic related to biodynamics, following any relevant method or approach. 
It does not have to be formal academic research. It can be a depiction of your on-farm/garden observations, new practices and questions that you are exploring. Through the posters we hope to provide a forum for sharing of existing research, cultivate a community of research practice and inspire others to do their own research.
Space will be available to display the posters throughout the conference. During a Research Poster session authors will stand beside their posters to field questions from browsing conference participants, share about their projects and have an opportunity to network in an informal setting.
Topics and Methods
Topics can include any research related to biodynamics that you have conducted or are in the process of conducting, following any relevant method or approach (e.g., natural scientific, spiritual scientific, Goethean, social, artistic). The research could be experimental or non-experimental, quantitative, qualitative, or both. It could be carried out by a farmer/gardener as part of their working observations and/or in the context of a formal academic study.
Content
Research posters need to include at least the following elements :
-Title
-Author name(s)
-Research question or phenomenon being studied
-Method or form of observation
-Findings/what was observed
-Summary of what was learned/revealed
-Questions/directions for future research, if any
Poster Design
All styles of posters are welcome. For example they can be hand drawn, collage style or computer designed and printed. The main goal is to effectively communicate your research and spark conversation. Keep word count low and balance text with pictures/drawings/graphics. Text should be readable from 3-6ft away. Minimum poster size is A1 or approximately 2 feet by 3 feet.
How to Submit a Research Poster Proposal
Enter your proposal in the webform below. Proposals are being accepted until January, 2021.  If you have questions please contact sarah@biodynamics.com.