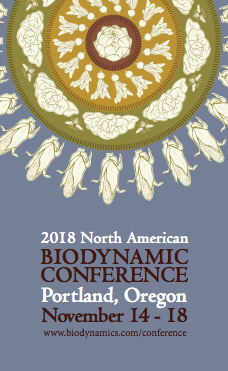 2018 North American Biodynamic Conference
The next North American Biodynamic Conference will take place November 14-18, 2018 in Portland, Oregon. Join us in the Pacific Northwest for another watershed gathering of 700-1000 farmers, gardeners, vintners, entrepreneurs, educators, researchers, activists, and enthusiasts from the region, across North America, and around the world. Five days of programming will include on-farm field days, hands-on workshops, inspiring keynotes, delicious local food, and many opportunities to connect.
The conference will be held at the Red Lion on the River Jantzen Beach, a sustainable Portland hotel uniquely situated on Hayden Island on the Columbia River, a short drive from downtown Portland and the Portland International Airport. Ballrooms feature floor-to-ceiling windows with waterfront views and plenty of natural light. Discounted hotel rooms will offer the convenience of staying right on site, with amenities including complimentary Wi-Fi and parking, a pool, hot tub, and fitness center, and pet-friendly rooms. Walking trails connecting to the hotel's waterfront offer opportunities to explore the island and enjoy fresh air.
A request for workshop proposals will be announced in early 2018. In the meantime, you can join our conference mailing list and share your suggestions on this form.