By Katherine Rapin
The 2016 North American Biodynamic Conference, "Tierra Viva: Farming the Living Earth," held November 2016 in Santa Fe, New Mexico, brought together nearly 800 people from both distant countries and neighboring cities. The attendees represented a vast range of work and distinct relationships to biodynamic agriculture. These snapshots provide a glimpse into the diverse backgrounds of conference participants.
---
Eddyberto Cardenas
Albuquerque, New Mexico
Eddyberto Cardenas manages the silkscreen program at La Plazita Institute, a non-profit organization that provides holistic and culturally appropriate healing services to incarcerated people, returning citizens, and vulnerable youth. Community members – mostly of Hispanic/Latino, Chicano, and Native American heritage – participate in peer-to-peer mentorship, talking circles, and celebratory ceremonies. They benefit from cultural healing services like acupuncture and acu-detox, and have the opportunity to grow food in La Plazita's neighborhood gardens. Many of La Plazita's staff members, including Eddyberto, were previously incarcerated – what the organization calls BTDTs (Been There, Done That).
The Tierra Viva conference introduced Eddyberto to the term biodynamics, but he's long been familiar with the concepts. "We [of Lakota heritage] come from people of the sun and growing food in ways that benefit the earth and the ecosystem," he said. "In our culture, this is how it's been and how it's supposed to be." He works with youth through art programs at La Plazita and reintroduces traditional wisdom so they perceive it as fun and compelling, rather than outdated. Eddyberto's t-shirt design (pictured) promotes La Plazita's philosophy: La Cultura Cura, or culture heals.
Note: The agricultural director at La Plazita Institute, Joseluis Ortiz, was a presenter at the conference. He spoke about commonalities between biodynamics and indigenous agriculture.
Aida Real
Mexico City, Mexico
Aida Real is the director and cofounder of Huerto Romita, a network of community urban gardens in Mexico City. The organization trains community members in gardening and self-healing through their learning programs. "Our most powerful value is the volunteer program," Aida said. The six-month program teaches fifteen community members about growing food in and for their city, but Aida says the true objective is to "reach people so they can find their own path and open their consciousness to what they can do." After volunteers complete the program, many continue working at Huerto Romita, like Aida, who started as a volunteer in 2011.
Aida was introduced to biodynamics a year and a half ago when she went to a conference at Las Canoas Altas in Erongarícuaro, Michoacán. Planting with the planetary cycles was natural to her since she had already been studying the moon cycle for her own health. She continued to expand her understanding by taking classes from Eduardo Rincon, a biodynamic teacher, researcher and artist based in San Miguel de Allende. Aida continues to expand the impact of Huerto Romita by training local teachers to start school gardens and write garden class curriculum. She also connects volunteers with farmers in rural areas near Mexico City. "I have this ability to bring people together," she said. "If I stop what I am doing, the wave I've been nurturing will," she clapped her palms together, "collapse!"
Mark Censits
Princeton, New Jersey
Mark runs Cool Vines, a wine retail business in New Jersey. He's also on the board of trustees of RSF Social Finance. He was initially brought to biodynamics by his kids' Waldorf education, but has continued to learn more through his business. Biodynamic® is becoming a more significant identifier in the wine sector, though Mark said it's still not common for customers to seek it out in his store. He doesn't designate a special shelf for RBiodynamic wines because he thinks they should be the standard. "Regenerative agriculture should be the default," he said, "and conventional [growing] should be what needs justification."
Nicholas Jermanovich
Spickard, Missouri
Nicholas is the co-livestock manager at Honey Creek Meadows, his family's 320-acre ranch. He and his sister look after 500 ewes, 220 cattle, eight horses, three Great Bernese dogs, and a donkey. They're taking the reigns from their parents, who moved from California to Missouri to raise livestock more than 20 years ago. It's often overwhelming work, and leaving the farm – even just for a long weekend – is stressful. "It's a team effort," Nicholas said. "Everyone's got to carry their weight."
Homeschooled by his parents, Nicholas grew up studying Rudolf Steiner and implementing his agricultural practices on the farm. He described his own deep sensitivity for the earth and for others. "Biodynamics is the spirit of working together, and including all human beings, " he said. Even as he has taken on more responsibility at Honey Creek Meadows, he made time to road-trip to two consecutive North American Biodynamic Conferences. His family's way of farming isn't understood or accepted by their neighbors in rural Missouri, so the gatherings are particularly important to Nicholas. "Coming here gives me a chance to talk with like-minded people."
Jerryme Ledesma and Sean Benedict
Roswell, New Mexico
Sean manages the grounds for the school district in Roswell; Jerryme is one of his staff members. They, and four other employees, take care of 235 acres, including sports fields, school playgrounds, parks, and vacant land.
Both Sean and Jerryme are new to biodynamic growing practices. At Tierra Viva, they attended workshops like "Principles and Sciences of Biodynamics" and "Making Biodynamic Compost" – part of the conference's BD Basics track. They're planning to incorporate some of the practices they learned into their management plans for the school district's grounds. Sean wants to start by designating specific areas to be sprayed with compost tea. "We'd like to see a difference," Jerryme said, "and hopefully an improvement."
Sean estimates he should have twice as many employees to better maintain the school district's 235 acres of land. They currently use chemical pesticides to save time, but are working towards more natural methods. "We're trying to manage it in a way that's better for the kids, and for the plants."
Alicia Marie Rencountre DaSilva
Santa Fe, New Mexico
Alicia is an artist, writer, and community activist who recently constructed an installation with her husband at the Standing Rock Sioux Reservation. Named Not Afraid to Look, the sculpture portrays a seated man looking out over the camps of protesters and the Missouri River with a resolute expression. It was inspired by Not Afraid to Look the White Man in the Face, a Lakota smoking pipe carved in the mid-1800s that depicts strength of indigenous peoples against oppression.
Tierra Viva marked a return to biodynamics for Alicia. She grew up in New York City, and babysat at the Rudolf Steiner School on 79th street and 5th avenue when she was young. She remembers the biodynamic community of that time as rigid. "It used to be, 'That's not how Rudolf Steiner would have done it,' end of discussion," she said. She moved out west, in part, to develop a relationship with the land, but she wasn't directly connected to biodynamics. At Tierra Viva, she noticed a change from the culture she remembered. "Now, the community is more loose, more inclusive," she said.
To Alicia, the study and practice of biodynamics is about understanding our relationship with the living earth and being respectful of its wisdom. "Believe the system is alive, ask what it wants," she said. "It's about listening and not imposing."
Lucinda Vigil
Santa Fe, New Mexico
Lucinda Vigil studies medicinal plants in Santa Fe. She's been a lifelong gardener, and is a recently certified Master Gardener. ("With all the Kelitas – the local name for wild spinach – around, you'll never go hungry here!" she mentioned.) Tierra Viva introduced her to biodynamics, which she's starting to understand as a heart-based approach to agriculture.
Lucinda attended the pre-workshop "Bridging the Americas," which challenged participants to think about how we can spiritualize our science, tune into nature's symphony despite our contemporary consciousness, and connect our work in biodynamics across geographic regions. The attendees were from Panama and Peru, Costa Rica and Canada, Mexico and New Mexico. They, along with representatives from farms like Angelic Organics in northern Illinois and Sophia's Garden in northern California, shared stories of their work. Lucinda said she was overwhelmed. "It's such an honor to have all these people here in Santa Fe."
Rashad Daudi
Austin, Texas
Rashad was introduced to biodynamics not by his work (he sells customer relationship management, or CRM, software for Salesforce), but by a pear. While on a road trip to Seattle with friends, he stumbled upon a market in Vancouver. He bought a pear and remembers eating it on the way back to the van and feeling infused with energy. The pear had been grown biodynamically – a term he'd never heard – and he had to know more. After a year and a half of personal learning and attending his first conference, he understood biodynamics as the process of attaining complete connection to ourselves, the food we eat, the land, and humanity. To Rashad, it's also about "taking ownership of that process," he said. "It's a lifestyle."
---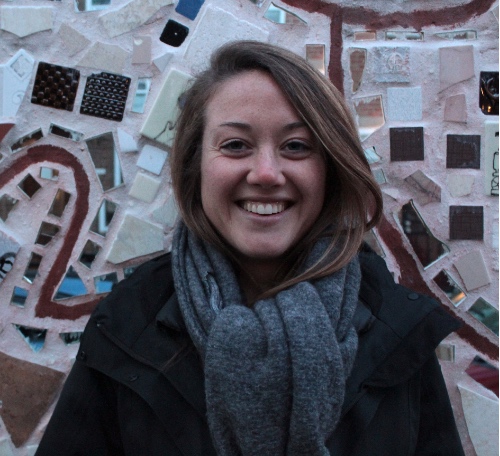 Katherine Rapin is a freelance writer and the associate editor of Edible Philly. She has written for The Philadelphia Inquirer, the Food Network, and the Stella Natura Planting Calendar. Each summer, she travels from her home in Philadelphia to spend time on her family's biodynamic farm in northern Michigan.