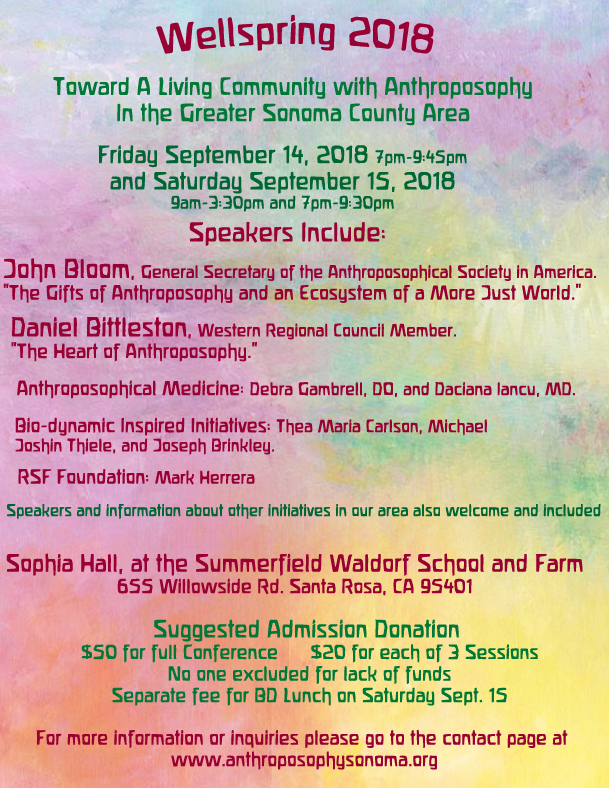 YOU ARE INVITED TO WELLSPRING 2018, SEPTEMBER 14-15
         SOPHIA HALL, SUMMERFIELD SCHOOL, SANTA ROSA, CALIFORNIA
                Toward a Living Community with Anthroposophy in our Area
            Anthroposophy is a wellspring: so many individuals in our local Sonoma County area have refreshed themselves from this spring, and anthroposophical initiatives truly are springing up in many fields of work and in many towns and locations in our Sonoma County area.  Discover this at Wellspring 2018, September 14-15.
            Your local Branch of the Anthroposophical Society in America (ASA) and the world warmly invites you once again to come taste what anthroposophy offers.  Since last year's Wellspring was such a delight for members and friends, your Branch has expanded this Wellspring 2018 conference's scope to recognize and empower more individuals taking initiatives across a spectrum of anthroposophical endeavors. Your Language of the Heart Branch has prepared this conference for you to hear and meet your colleagues representative of the entire movement and Society, as well as members and friends undertaking initiatives in our immediate area.
       From our local area, speakers at Wellspring representing bio-dynamic agriculture include Thea Maria Carlson, co-director of the B-D Association of America, beekeeper Michael Thiele of Apis Arborea, and Joseph Brinkley of Bonterra Vineyards, among others.  Representing the larger Society, General Secretary John Bloom will speak Friday evening Sept. 14on "The Gifts of Anthroposophy and an Ecosystem of a More Just World," and Western Regional Council member Daniel Bittleston will speak Saturday morning Sept. 15 on "The Heart of Anthroposophy."  Crucial aspects of anthroposophical medicine will be explored by speakers Debra Gambrell, DO, and Daci Iancu, MD, among others, during the early afternoon.  Mark Herrera, Senior Manager RSF Foundation, Client Engagement, will make a presentation Saturday evening Sept. 15 on the important work of this Foundation.  Other initiatives and initiative takers in our area are also warmly invited to briefly present themselves and their work to the community.
        The suggested admission donation for the entire event, three sessions, Friday evening Sept. 14 through Saturday evening September 15, is $ 50.00.  If you can only make a part of the conference, the suggested donation for each of any three sessions is $ 20.00.  Your donations to Wellspring will also serve to assist the work of the Branch in the coming months and years.  There will be a separate fee for B-D lunch Saturday Sept. 15.  No one turned away for lack of funds or for partial donation only.  No reservations; donate at the door at the time of the event.  For information and updates, contact anthroposophysonoma.org.  Help us build a living community with anthroposophy!